| | |
| --- | --- |
| | Wharton Research Data Services (WRDS) is a so-called 'shell interface' providing access to a diversified set of databases containing company data. |
WRDS update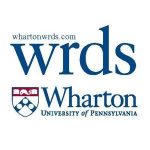 WRDS has documented serious problems in the last few data updates of Thomson Reuters Ownership data, commonly known as the Thomson SP data feeds. ...
Keep reading
Wharton Research Data Services (WRDS), produced by Pennsylvania University, is a so-called 'shell interface' providing access to a diversified set of databases containing company data. WRDS functions as a platform. Besides the datasets accessible to all Wharton users, Maastricht University has additional licenses to the following sources: Compustat Global, Compustat North America, ExecuComp, CRSP Stocks, CRSP Indices, CRSP Mutual Funds, I/B/E/S, Amadeus top 250.000, RiskMetrics (formerly known as IRRC) and Mergent FISD.
Be aware that all datasets that are optional within the WRDS interface are also visible however not accessible. See the list with 'Current Subscriptions' in the left frame to find out which datasets are subscribed to by Maastricht University.
Each dataset has its own search interface. Clicking Tools or Support gives you an overview of the manuals and codes which are in use in the databases. Supporting video instruction modules are available in the database via: 'E-Learning'.
UM staff and students are required to open an individual Wharton account. WRDS requires staff to have a UM contract. Students are no longer allowed to use the WRDS databases after their graduation. The account can be requested via Register for a WRDS Account.
Once you log in to WRDS you find an extensive set of online manuals under Support.
Ask your librarian! Save time by starting your support request here and we'll connect you to an expert.
Access information:
The WRDS interface is only accessible via a WRDS account, which can be requested via the WRDS start page.
Only regular Maastricht University email accounts are accepted.
Unfortunately UM-Alumni-accounts are excluded due to license restrictions.