Open Science: because every UM scholar deserves to be seen
Issue #2 of our Research Support update focusses on the UM Open Science event that will take place on Friday 25 October in the context of International Open Access week 2019.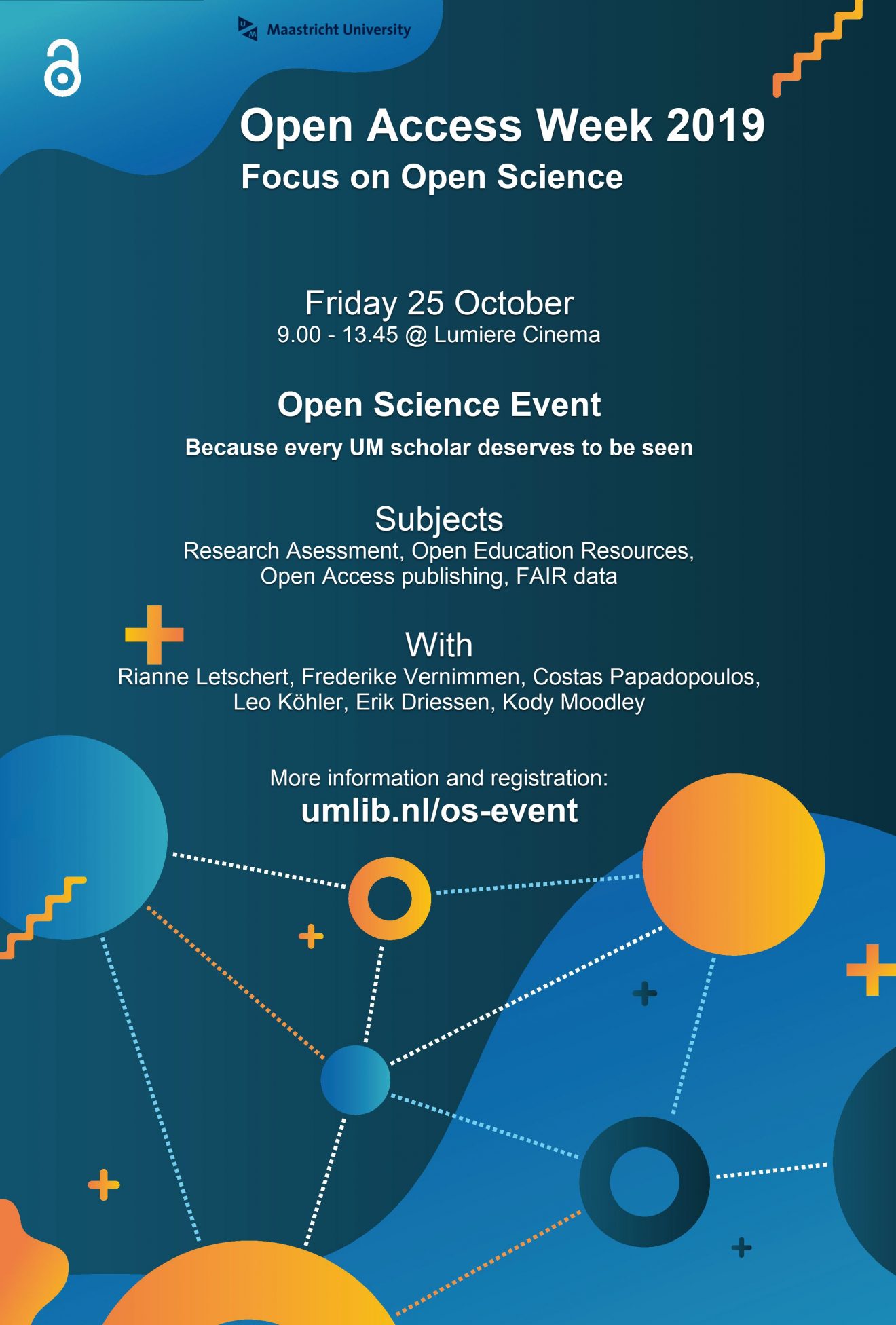 The event starts with the official signage of the San Francisco Declaration on Research Assessment (DORA) by our rector Rianne Letschert, followed by showcases of various open science themes at Maastricht University. We will end with a networking lunch.


09.00: Opening and welcome
09.30: Research Assessment
Rianne Letschert (Rector Maastricht University) - "Towards a new approach of research assessment" (incl. DORA signage)

10.15: Open Educational Resources - Frederike Vernimmen (programme manager CI office), Costas Papadopoulos (assistant professor Literature & Art), Leo Köhler (associate professor NUTRIM)
11.00: Break
11.15: Open Access publishing - Erik Driessen (Professor, Chairman Dept. Educational Development & Research FHML)
12.00: FAIR data - Kody Moodley (postdoctoral researcher IDS)
12.45: Networking lunch
13.45: End
Location: Lumière Cinema, Bassin 88, Maastricht
About Open Science
Open Science can help you to be seen in the broadest sense of the word; from visibility and access to your work (e.g. publications or educational resources) to recognition and rewards that you receive.


Maastricht University supports the principles of Open Science and encourages you to bring these principles into practice and make science 'as open as possible, as closed as necessary'.
Upcoming training and workshops
Our workshops and courses are available for students, researchers, staff members and alumni from Maastricht University and the academic hospital (MUMC+).


Follow the links for more information, dates, and to register for these workshops.


As always, if you have questions, suggestions, or otherwise you can reply to this e-mail or use the contact and support option on every page of our website.




Thank you for subscribing to the Library update
This email update contains a link to your personal subscription settings.
You can manage your subscription by using the links below.

If you forward or share email updates, please remove the footer with your personal links.

If you have questions or remarks, please use our Contact & Support form.