Welcome to the first issue of our Research Support update for the academic year 2019/20.


In this issue, we focus on the recently launched Research Data Management portal, a joint effort by the Community for Data-Driven Insights and the University Library.


Further, in this episode, a new Similarity Check service is now available to help you prevent plagiarism and sloppy referencing. Elsevier recently tripled the number of journals in which UM authors can publish open access without paying APC and more publishing support news. And you can register again for our upcoming workshops.


Please see below for further details.
Ron Aardening, Scholarly Communications & Publishing Officer
Launch of the Research Data Management portal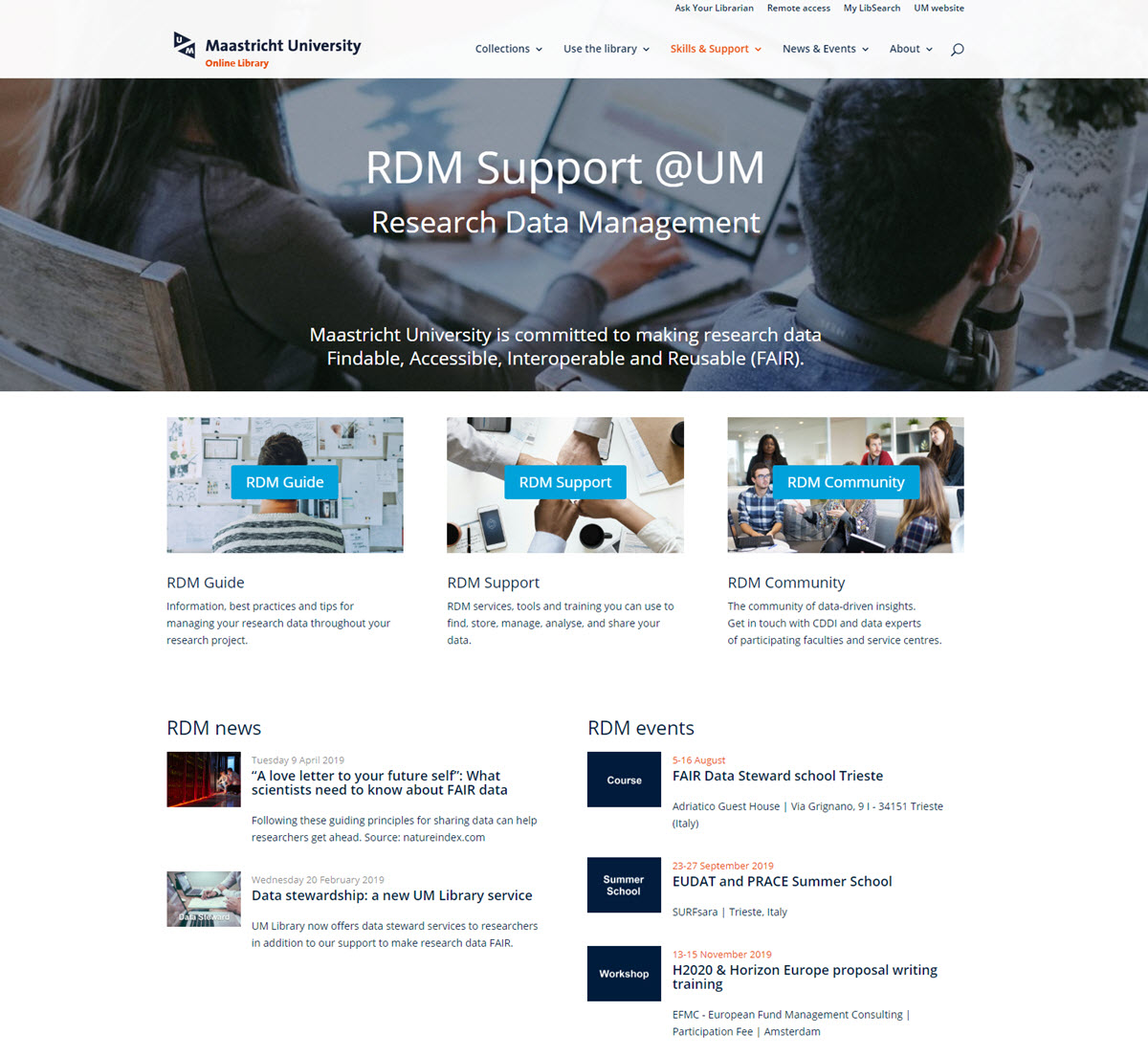 The portal brings together information concerning the management of research data in every research phase. Here you can find information on the available research data management infrastructure, practical solutions and where to find assistance.


The portal consists of three parts:
The RDM guide provides information, best practices and tips for the management of research data.
RDM support provides an overview of available services, tools and courses.
The RDM community identifies experts within the faculties and service centres who can support researchers in the area of data management. It also refers to relevant information on the UM website and intranet.
Maastricht University encourages researchers to work in line with the FAIR principles: data should be findable, accessible, interoperable and reusable. These principles are an important part of the Open Science movement, which promotes open and reproducible research. You can find more information about making your research FAIR on the RDM portal.


Community for researchers
To provide the best possible support for researchers in conducting FAIR research, UM has established the Community for Data-Driven Insights (CDDI). The community encompasses researchers and research supporters. The CDDI is currently focused on running pilots, improving infrastructure, and acquiring and sharing the necessary expertise. For more information, you can send an email to CDDI@maastrichtuniversity.nl.


Overview of recent updates
Research Support news
This week we launched a new service for researchers: the Similarity Check Service.
Elsevier has expanded the number of journal titles in which researchers from Maastricht University and MUMC + can publish open access 'for free' to 1650 hybrid titles. Researchers can now also publish in 250 open access journals without paying APC.
Maastricht University and MUMC+ students and staff can access the articles of the Royal Society of Chemistry (RSC) journals again. The current subscription runs until 2021.
Researchers of Maastricht University and Maastricht University Medical Centre can publish without any extra costs (APC) in more than 100 peer-reviewed Karger journals, both fully OA and hybrid.
Corresponding authors of Maastricht University and MUMC+ can now publish open access for free at Oxford University Press (OUP).
The Dutch scholarly publications portal NARCIS now presents more than 700,000 open access publications by Dutch academics. Maastricht University counts for 15,228 open access publications.
Micah Vandergrift visited Maastricht University Library as a Fulbright-Schuman innovation fellow and stayed with us for 5 months between October 2018 and February 2019.
Upcoming training and workshops
Our workshops and courses are available for students, researchers, staff members and alumni from Maastricht University and the academic hospital (MUMC+).


Follow the links for more information, dates and to register for these workshops.


As always, if you have questions, suggestions, or otherwise you can reply to this e-mail or use the contact and support option on every page of our website.




Thank you for subscribing to the Library update
This email update contains a link to your personal subscription settings.
You can manage your subscription by using the links below.

If you forward or share email updates, please remove the footer with your personal links.

If you have questions or remarks, please use our Contact & Support form.