An important step on the road to Open Science at UM
An important step on the road to Open Science at UM
On Friday 25 October, rector Rianne Letschert signed the San Francisco Declaration on Research Assessment (DORA) on behalf of Maastricht University (UM). Before turning to the official signage of the declaration, Letschert presented the focal points of UM's Open Science policy and highlighted various good Open Science practices at UM. Open Science is a very broad term, visualised by Letschert as a tree with many branches. Recognition and rewards are at the roots of this tree, essential for Open Science at UM to bloom.
Open Science at UM
Maastricht University has only recently adopted its Open Science policy, but many examples of good Open Science practices have been initiated at UM even before this policy was in place. Five speakers presented their open science practices at UM during this event.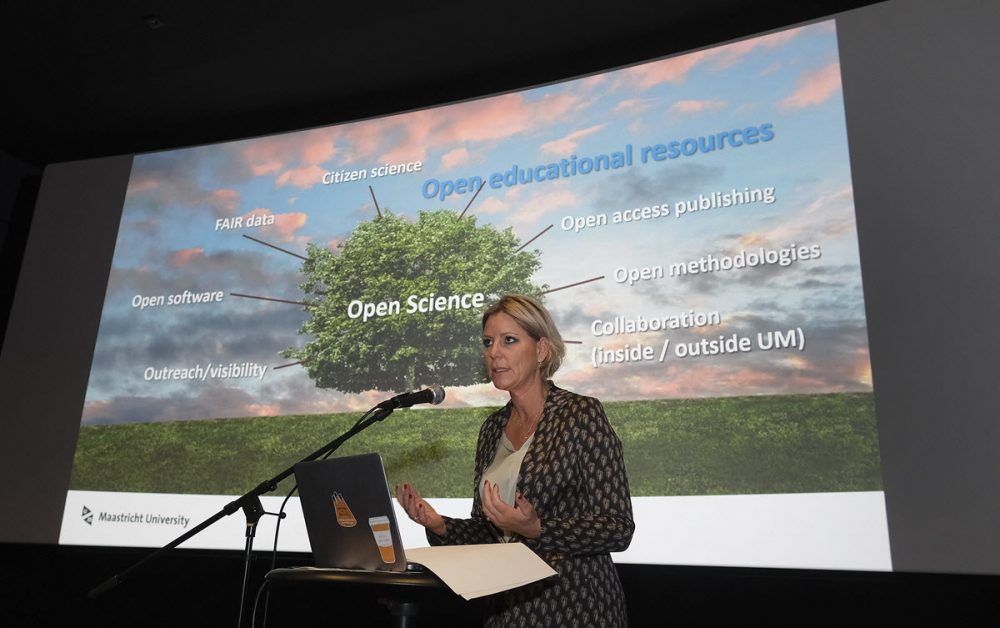 Open Access
Rianne Letschert highlighted the fact that more than half of UM's research publications are currently published Open Access (OA). The University Library supports researchers to publish 'Gold Open Access'. From now on the library will also focus on 'Green Open Access' by supporting the submission of author versions in the UM repository so UM will get ever closer to reaching the ambition of 100% OA.
Erik Driessen emphasised three important advantages of open access publishing:
OA publications have a wider reach. Not only academics in the developed world, but also in the developing world and people outside academia can find and access your publications.
Authors retain control of who can use their OA publications and for what purposes.
OA publications can have more impact in terms of citations and social media attention.
Citizen Science
Rianne Letschert reminded the audience that researchers should not only strive to boost their academic careers, but contribute to finding solutions for societal issues. The Maastricht Platform for Community-Engaged Research (MPCER) – launched on 3 October – was named as an example fostering the citizen science branch of Open Science.
FAIR Data
The Community for Data-Driven Insights (CDDI) is paving the way towards UM's ambition to become a FAIR university in 2023. In every faculty, pilot projects are focussing on how to make data Findable, Accessible, Interoperable, and Reusable (FAIR). Kody Moodley presented one of these projects, the LAWGEX prject on consumer legal disputes.
Lessons learned from this project are:
FAIR is not binary: data is not either FAIR or not FAIR
FAIR is not the same as open
A little FAIRness goes a long way
Findability and Accessibility are less challenging to realise than Interoperability and Reusability
Steps for making data FAIR may vary depending on the nature of the project and the data
Open Educational Resources (OER)
Rianne Letschert, as well as Frederike Vernimmen, Costas Papadopoulos, and Leo Köhler named "not reinventing the wheel" as an important argument for openly sharing educational resources and reusing them.
The DARIAH Teach Platform and the TOOL2-project were presented as two good practices of Open Educational Resources at UM. Rianne Letschert's remarks on rewarding educational activities equal to research activities were endorsed by Papadopoulos and Köhler.
Research Assessment
For a change in scholarly practices towards Open Science, it is also necessary to make changes in research assessment procedures. Rianne Letschert is involved in the VSNU project 'Recognition and rewarding of academics', which also considers the renewal of research assessment methodologies and the promotion of Open Science. The signage of DORA is an important step towards renewed research assessment methodologies at UM. Letschert emphasised that measuring numbers is not the same as measuring quality. She highlighted the general recommendation of DORA in her presentation: "Do not use journal-based metrics, such as Journal Impact Factors, as a surrogate measure of the quality of individual research articles, to assess an individual scientist's contributions, or in hiring, promotion, or funding decisions."
Open Science Community Maastricht
The event was not only a place where information about Open Science @ UM was shared in various presentations but also a perfect occasion for UM scholars and other employees to get in touch and think about the future. Mariëlle Prevoo, open knowledge librarian at Maastricht University Library, encouraged all attendees to provide ideas on next steps to take on the road towards Open Science @ UM.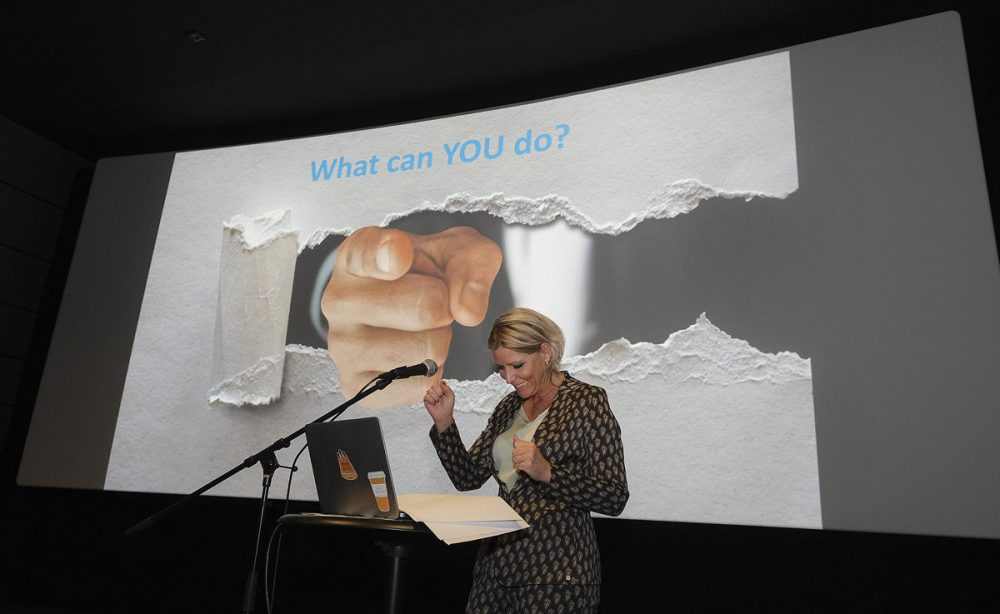 During the networking lunch some scholars expressed their interest in participating in starting up an Open Science Community, following the example of other Dtch universities. UM Library is more than willing to support scholars in establishing such a community. Are you interested in joining? Let us know via the contact form and w'll get you in toch with the scholars already involved.
An impression of the event
 

 

View this post on Instagram

 
More information
Presentations by the speakers, photo's and additional information about Open Science @UM will be added to the event page
If you want to stay informed, please subscribe to our Library+ Research update
Authors: Mariëlle Prevoo, Open Knowledge Librarian and Ron Aardening, Scholarly Communications & Publishing Officer. Please use the form below to contact the authors about the event and other Open Science related issues
Photos: Joey Roberts and Maastricht University (Instagram)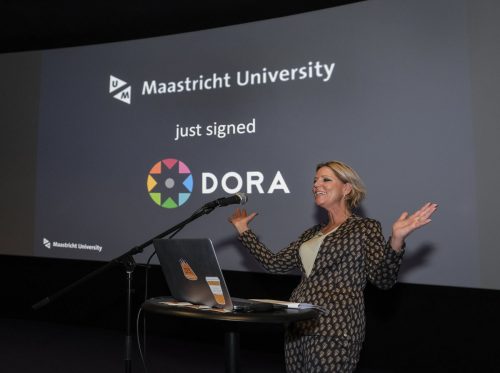 Stay up-to-date
Join our general Library Update and/or our dedicated Research Support mailing to receive updates about services, support, apps and tools, practices, training, and trends with a focus on research.
Contact & Support
For questions or information, use this web form to contact a specialist.
Ask Your Librarian - Contact a library specialist