Beck-Online Premium
Databases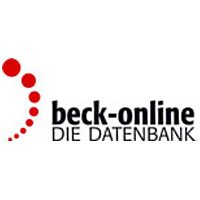 Beck-Online is a German (language) full-text database, providing access to German legal resources. You can search legal magazines, commentaries, legal codes of each state and court rulings.
You can select the legal resource you want to browse from 'Unsere Inhaltsübersicht' on the left side.
The search feature has 2 options: 'Detailsuche' and 'Profisuche'. The last named search option provides a more detailed search form, allowing you to be more specific about the parameters for the search.
Search guidelines are available from the tab 'Hilfe' in the red navigation bar'.
By entering the abbreviation (e.g. NJW) or a word from the title, you can find one or more journals. You will be directed to the latest issue of the journal. By clicking, in the left column, on the title of the journal you will get an overview of all back volumes/issues.
Access information:
Off-campus access to Beck-Online is prohibited in compliance with the license agreement.