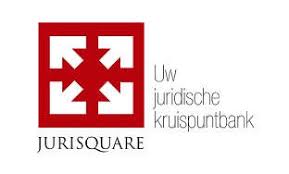 Jurisquare is een juridische databank die tijdschriften van de belangrijkste Belgische juridische uitgeverijen (Anthemis, Bruylant, Die Keure, Intersentia, Larcier) via één systeem aanbiedt.
Onze licentie is beperkt tot 1 gelijktijdige gebruiker!
Jurisquare heeft vier tabbladen: 'Bibliotheek', 'Full text', 'Mijn bibliotheek' en 'Privacy'.
Het tabblad 'Bibliotheek' geeft een overzicht van alle boeken en tijdschriften die zich in de databank bevinden. De recent toegevoegde publicaties verschijnen het eerst. Je kunt hier alleen zoeken op de titel van een boek of tijdschrift. Klik vervolgens op de cover van het item dat je nodig hebt. Je kan nu verder bladeren naar de benodigde jaargang en artikel.
Via tabblad 'Full text' kun je zoeken door de volledige tekst van alle publicaties op Jurisquare.
Via 'Mijn bibliotheek' krijg je een overzicht van de in abonnement zijnde tijdschriften. Klik op de tab 'Mijn bibliotheek' en vervolgens vink 'Mijn bibliotheek' aan onder de filter 'Waar?'.
Onder de tab 'Privacy' kun je je inschrijven voor de gratis nieuwsbrief en ontvang je regelmatig een overzicht van de artikelen die veschenen zijn in de tijdschriften die je wenst te volgen.
Jurisquare bevat een uitgebreide zoekfunctie met filters (o.a. taal, uitgeverij, rechtstak, publicatievorm), klassering volgens relevantie of datum enz. Sorteer de resultaten op datum of op relevantie en gebruik de filters aan de linkerkant om de resultatenlijst te verfijnen.
Eenmaal in een tekst kan je 'meer details' gebruiken om snel de referentiegegevens te kopiëren.
Toegang tot de volledige tekst is alleen mogelijk bij de volgende, in abonnement, zijnde tijdschriften:
Droit de la consommation – Consumentenrecht (DCCR)
European journal of Social Law (EJSL)
Journal des tribunaux (JT)
Journal européen des droits de l'homme – European Journal of Human Rights (JEDH)
L'entreprise et le Droit / Tijdschrift voor Aannemingsrecht
Nullum crimen : tijdschrift voor straf- en strafprocesrecht (NC)
Rechtskundig weekblad
Revue belge de droit international / Belgian review of international law / Belgisch tijdschrift voor internationaal recht
Revue critique de jurisprudence belge (RCJB)
Revue de Droit International et de Droit Comparé
Tijdschrift voor Sociaal Recht (TSR) / Revue de Droit Social (RDS)
Revue européenne de droit de la consommation (R.E.D.C.)
Tijdschrift voor Fiscaal Recht (TFR).