Oxford Scholarship Online (Law Collection)
Databases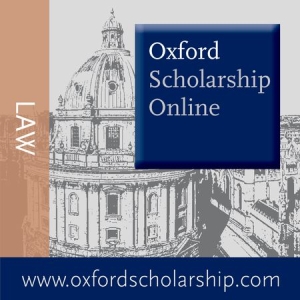 Oxford Scholarship Online provides access to the books published by Oxford University Press. The Library currently subscribes to the subject collection: Law.
The law module of Oxford Scholarship Online (OSO) offers quick and easy access to approximately 1,400 legal titles in full-text by the Oxford University Press. The module has a restricted concurrency of 3 users.
Each title in OSO features full-text, full chapter abstracts, keywords, and bibliographic links to other relevant titles. It also provides an advanced cross-referencing tool, which allows bibliographic searches to be performed on any word within the text, plus a citation exporter, so references can be replicated.
Individual chapters can be printed or saved in PDF format. To generate a PDF of an individual chapter, click on the Download Chapter (View PDF) link at the top of the full-text chapter page. A new window opens, click on Proceed to open the PDF and download.
New titles are added to OSO three times a year, with the OSO homepage detailing those titles which have been recently added.
Subject Coverage:
Company and Commercial Law
Comparative Law
Competition Law
Constitutional and Administrative Law
Criminal Law and Criminology
EU Law
Employment Law
Environmental and Energy Law
Family Law
Human Rights Law
Intellectual Property, IT, and Media Law
Law of Obligations
Legal History
Legal Profession and Ethics
Medical Law
Philosophy of Law
Private International Law
Public International Law