Votewatch Europe
Databases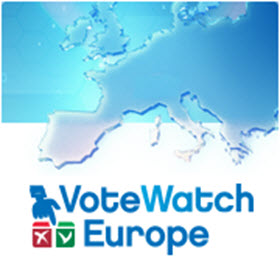 VoteWatch Europe provides access to the full datasets on the votes within the European Parliament (since July 2004) and the Council of Ministers (since 2009).
VoteWatch Europe is the leading analytical tool for EU political data. VoteWatch Europe provides the tools you need to track, analyse and anticipate the voting behaviour of elected officials and political groups in the European Parliament and Council of Ministers, whether you are a researcher, a diplomat, a representative of a civil society organisation or of an economic group.
You can find the search bar on the website header. The search bar remains visible on every page. Just enter a keyword and you will be redirected to the search page where you can narrow down your criteria. The search page will show you where the keyword appears in four categories: MEPs, European Parliament votes, Council votes and Website search.
Type the name of an MEP and you will get access to the MEP's VoteWatch profile. You can narrow down your search by
Member State, European group, committee membership and even by what's on their CVs.
Type your keyword of interest in European Parliament votes or Council votes and you can see the votes relevant for your keyword. Each category has a filtering options box. Scroll and narrow down your research by policy area and date. Additionally, you can search votes by the rapporteur.