Note that during the coronavirus (COVID-19) crisis, all exams will take place online for the remainder of the academic year.
Please read the FAQ for online exams during COVID-19 for up-to-date information.
1.
About TestVision
Most digital exams at UM will use TestVision. These pages will help you familiarise yourself with TestVision before taking the exam.
2.
Log on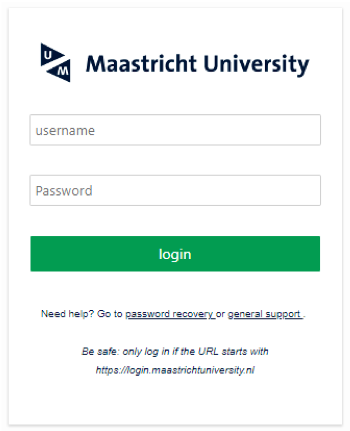 Only for students who are registered for a digital exam.
Log on to TestVision with your UM username and password.
The first time you log on you will see a popup asking for permission to share your information to TestVision Online. You must click on 'Yes', proceed to TestVIsion. You will not be asked again.
3.
Language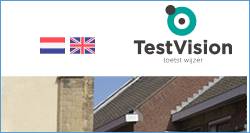 On the home page you can choose English or Dutch as the language for the menus and buttons in TestVision by clicking on the corresponding flag.
You cannot change your preference during the exam, you must set your preferred language before you start.
The chosen language does NOT affect the language of the exam questions.
5.
Text Editor
For open ended questions TestVision will show a text editor that includes formatting and symbols.

Submit Answer
TestVision will ask for confirmation to submit or modify your answer. Your answers are also continuously saved as you type; there is no need to save your answers during typing.

Formula editor
A formula editor will be added to TestVision by October. Information will be added to this site when available. You can use MathML and Latex to enter formulas.
6.
Submit your exam

You submit your exam for grading by clicking 'Ready' ('Klaar') at the bottom right of the screen.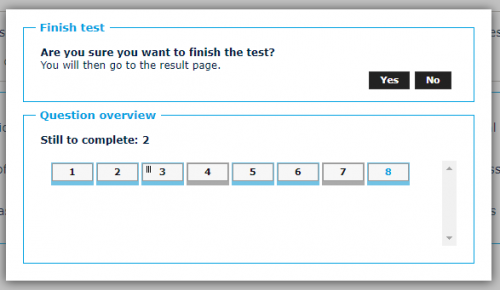 A popup will appear with an overview of the questions you answered.
To submit your exam, confirm by clicking "Yes".
To go back to the exam, click "No", or jump to a question from the overview.
You cannot go back to the exam once it has been submitted.