UM Wiki Citation Challenge
Workshops & Courses
UM Wiki Citation Challenge
Content:
Maastricht University Inner City Library, will be hosting a Wiki Citation Challenge on 4 February as part of #1Lib1Ref  Wikipedia worldwide Campaign.
In this workshop, a professional Wikipedia trainer will help you to use and add a reference to Wikipedia. Participating in Wikipedia is easier when you can learn with others.
Please note: entrance is free.
Learning objective:
After attending the workshop you will:
understand how Wikipedia works
recognize the advantages of Wikipedia
know how to make an account for Wikipedia
add references to Wikipedia
make Wikipedia a more reliable source for readers all over the world.
Target group: Employees and students UM
Language: English
Course format: Workshop by a professional Wikimedia trainer, introduction to Wikipedia, hands on approach, add a reference, questions and answers
Prerequisites: Bring your own laptop!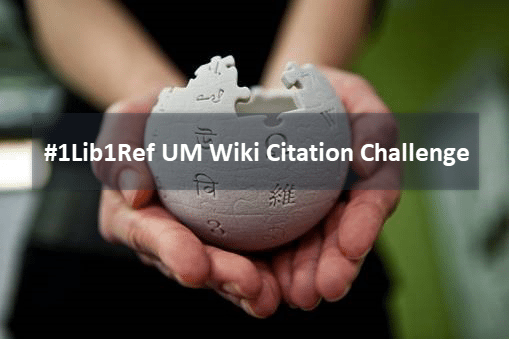 Upcoming courses
No Events
Contact & Support
For questions or information, use the web form to contact an information skills specialist.
Ask Your Librarian - Contact a library specialist