Workshop FeedbackFruits Facilitating Peer Feedback
Workshops & Courses
Workshop FeedbackFruits Facilitating Peer Feedback
Due to COVID-2019 the workshop will be offered online via Zoom. After registration you will receive a link for the session.
Content
In this session, you will get an introduction of the peer feedback tools that allow both teachers and students to give feedback on different types of deliverables and skills. The instructor creates feedback criteria based on which the students' work or skills are evaluated.
• Peer Review: Organize effective and efficient peer feedback and facilitate peer learning by guiding your students in reviewing each other's work
• Group Member Evaluation: Get insight into the group dynamics and improve team work by letting students evaluate their team members' collaboration skills
• Discussion Assignment: Structure a meaningful online discussion by letting students discuss each other's work in an open setting.
Learning objectives
After attending the workshop you will be able to select the tool most suited for your educational scenario and use the tool in you Canvas course
Target Group: Teachers
Language: English
Course format: Demo and hands-on experience, discussion and Q&A
Prerequisites: basic knowledge of how to use Canvas as a teacher
More information: please contact courses-ub@maastrichtuniversity.nl.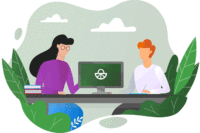 Upcoming courses
No Events
Contact & Support
For questions or information, use the web form to contact a library specialist.
Ask Your Librarian - Contact a library specialist