Is Generation Z able to search beyond Google?
Is Generation Z able to search beyond Google?
Are your students critical thinkers when it comes to finding and assessing relevant information for their courses or writing assignments? Do we know how students get their information, and which sources they use? Are they aware of filter bubbles limiting their access to information? In other words, are Maastricht University students information literate?
And does this mean that they know the pitfalls and downside of general search engines as opposed to e.g. databases and other academic resources?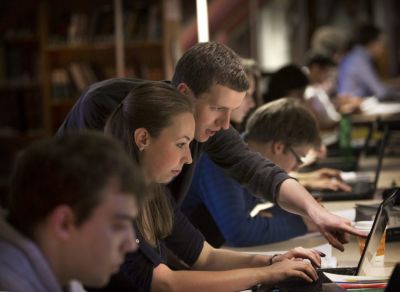 How students access and assess academic information
For many years now, UM Library teaches students how to find and assess (academic) information, via workshops, resources, and online tutorials. However, the academic information landscape is changing and therefore we reconsider (together with UM faculties) how to teach students the ins and outs of researching information in all of its forms.
Library specialist have recently conducted a quick scan. Survey questions into assessing information literacy among UM students were developed in consultation with EDLAB liaisons. Lea Maria Ferguson (lecturer and writing coach at UCM) analysed the results and wrote a report: How do students access and assess academic information?
This report presents several interesting conclusions and recommendations for information literacy skills training in conjunction with Problem Based Learning, to build further upon. As UM Library, we are looking forward to hearing your opinion about the findings in the report. Feel free to contact Henriëtta Hazen (E h.hazen@maastrichtuniversity.nl) with questions, suggestions, and further ideas.