In last week's Open Education Week you could attend lots of (online) activities all over the world. The theme appears to connect to a lot of activities education is facing now. In close connection to SURFs special interest group on this theme, the Dutch libraries joined in a task force to investigate libraries role in open and online education. In the Open Education Week (7 March) they showed their practices and exchanged experiences.
Poster sessions 
Participants could visit a structured poster session where several colleagues presented on their practices. Afterwards, a plenary discussion gave opportunity to discuss future roles and activities. Not surprisingly topics related to two main themes were addressed:
how to move publishers into new directions concerning e-content?
how to get stakeholders from an educational background enthusiastic to add to and use your offer in this field?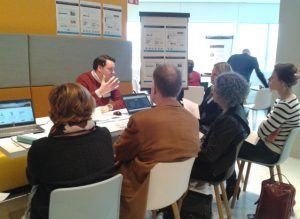 Maastricht University Library was represented by Odin Essers (team e-learning support) and Leonne Portz (team information skills), both from the department of Education & Research Support. They presented on:
Information market
Other stands showed practices on:
Pilot Open Learning Resources, pilot eStudybooks (SURFmarket)
BUNDLE: Interactive digital reader in Bookshelf (Hogeschool van Amsterdam)
E-LITE: Electronic Library Instruction To Explore (Radbout University)
Self-instruction modules, digital guides and videos on information literacy skills in Elite (made with Xerte)
Online course on information literacy (Wageningen University)
Digital Learning Lab (Hogeschool Rotterdam).
For further information or questions you can send an e-mail or contact us via Ask your librarian.