More and more the question arises whether the boundary between man and machine can be drawn as sharply as before. Humans are becoming more machine-like and machines more human-like. Materialist philosophy presupposes that we are machines to begin with. Showcases in the inner city Parlour and Randwyck Library display books from our Special Collections related to philosophical materialism. Take this opportunity to see a selection of seminal works written by Lucretius, Bergier, La Mettrie, Helvetius, Buechner, Moleschott and Feuerbach.
The first masterpiece of materialist literature
Materialism is the oldest philosophical tradition in Western civilisation. Originated by a series of pre-Socratic Greek philosophers in the 6th and 5th centuries before the Christian era, it reached its full classical form in the atomism of Democritus and Epicurus in the 4th century BCE. Epicurus argued that ultimate reality consisted of invisible and indivisible bits of free-falling matter called atoms randomly colliding in the void. It was on this atomic hypothesis that the Roman poet Lucretius wrote the first masterpiece of materialist literature around 50 BCE, the 7400-line philosophical poem De Rerum Natura, or, as it's usually translated, The Nature of Things.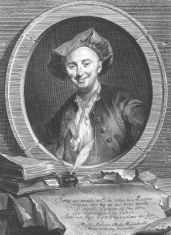 Pieces on a beheading block
The second masterpiece of materialist literature, Baron Paul d'Holbach's anonymously published La Systeme de la Nature (The System of Nature), appeared in France in 1770 and was promptly condemned by Louis 16th's government. This meant that the official state hangman was authorised to ferret out every copy of the book and have it literally cut to pieces on a beheading block. D'Holbach bases his mechanical determinism on Newtonian physics and Lockeian psychology, arguing that every event in nature, including all human thought and moral action, is the result of an inexorable chain of causation rooted in the flux of atomic motion. The book was considered extremely radical in its day and the list of people writing refutations of the work was long. The Roman Catholic Church had its pre-eminent theologian Nicolas-Sylvestre Bergier write a refutation titled Examen du matérialisme ("Materialism examined").
Kraft und Stoff
So too with the third pre-20th-century masterpiece of materialist literature, Ludwig Buechner's 1884 edition of Kraft und Stoff, translated Force and Matter, one of the most widely read and influential German books of the 19th century. Himself trained as a scientist, Buechner, like Lucretius and d'Holbach, saturated Force and Matter with the best science of his day, including cutting-edge theories and discoveries in physics, chemistry, geology, and biology, which of course incorporated Darwin's recently published theory of evolution.
Modern materialists
Modern materialists are allies in believing, as pre-20th century materialists did, that science has always confirmed and will most probably always continue to confirm the basic hypotheses of materialist philosophy: that is, first, that all reality is essentially a material reality and that therefore, second, no supernatural or immaterial reality can exist; and, third, that all organic life arises from and returns to inorganic matter. Their main disagreement is over the mind-brain problem, which has been the focus of 20th century materialist debate.
If you want to read more about this debate, check out Prof Richard Vitzthum's 'Materialism: An Affirmative History and Definition' or his essay on Philosophical Materialism.
Source: The Secular Web