Minervalia update 1: Wanderlust
Minervalia update 1: Wanderlust
Did you know… Jacob Baethen, printer of the book Minervalia, has traveled a lot? He was born and raised near Leuven, moved to Maastricht and ended up living in Düsseldorf.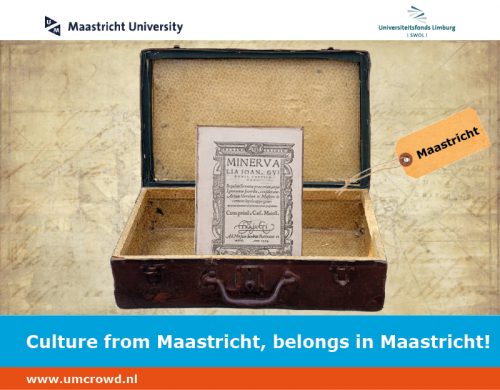 The University Fund Limburg/SWOL and the Maastricht University Library want to start the last journey of the Minervalia towards Maastricht, its 'place of birth'. You might have heard about this project already, which is the first project of crowdfunding platform UM Crowd.
We have come a long way, but we need more support to bring this special book back to Maastricht. Will you help? Visit www.umcrowd.nl for additional information.
Authors:
Milou Schreuders and Susanne Snijders, both communication officers at resp. University Fund Limburg/SWOL and the University Library 


This article is licensed under a Creative Commons Attribution 4.0 International (CC BY 4.0) License.