New module 'Profielwerkstuk' online!
New module 'Profielwerkstuk' online!
In the last year of secondary school, pupils work on a school project, the so-called (in Dutch) 'Profielwerkstuk'. This is all new to them, because it requires the use of unfamiliar skills. And these skills are quite familiar to academic skills, which are taught at the university. Pupils need to think about the topic of the project, will formulate a research question, need to find relevant sources, and write a final report.
Online module
On request of UM Marketing & Communications, the University Library developed an online module to help pupils from secondary schools to work on their school project. This new (Dutch) module is now freely available online! The module contains practical information, self-tests, and examples.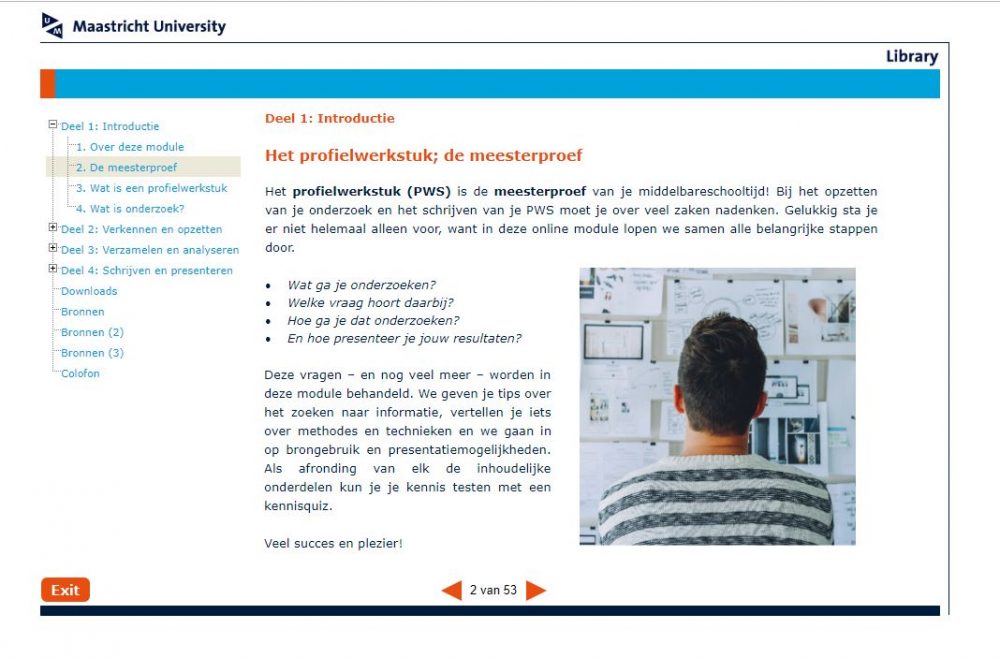 Workshop
Next to the online module, we also offer a workshop for secondary schools to help their pupils in the research and writing process of their project.
A head start for university
When applying to the university, pupils who participated in these workshops have already gained some experience on the research process, e.g. defining a topic and research question, doing a literature search, evaluating and managing information, and writing a research project. This gives them a head start compared to other students.
Interested?
For more information, check out the UM website with information for school deans [only available in Dutch].
Do you have questions about the module or workshop, or are you looking for support in academic skills activities by UM Library specialists, please contact Henriëtta Hazen or Stefan Jongen via Ask Your Librarian.
Author: Stefan Jongen, Specialist Scientific Information


This article is licensed under a Creative Commons Attribution 4.0 International (CC BY 4.0) License.