Altmetrics in UM/MUMC+ Research Publications
Pure feature
Pure feature: discover attention for your publications with altmetrics
Since this year, UM/MUMC+ Research Publications (Pure) shows 'Altmetric Donuts' and 'PlumX Prints' for outputs. Read more about these new features and how you can use them in this article.
Tracking the impact of your publication
Hopefully, your publication has an impact on the community around you, and peers or other readers can appreciate your work. To find out more about the value of your article or to gain insight into the sort of audience interested, you can track the impact of your publication. You can do this by counting citations provided by citation indexes such as Web of Science. Scholars use these traditional metrics as a proxy for the impact on your peers, the scholarly community. Besides this, there is also an impact on society and the general public. This type of impact has gained momentum and consequently, the wish to measure it has increased.
The measurement of societal impact has been the subject of much contemporary debate, and so far, no standardised metrics have emerged. Examples of proposed indicators include references in patents, policy documents, textbooks and newspapers. This new type of indicators aimed at capturing societal impact is referred to as 'altmetrics', as compared to traditional metrics. Altmetrics do not replace traditional metrics, but rather complement them.
Altmetric and PlumX
Altmetric and PlumX are two platforms that track and analyse the online activity around scholarly research outputs. We use both platforms to enrich the information about publications in UM/MUMC+ Research Publications (Pure).
Altmetric started as an independent company and joined the Digital Science group in 2012. PlumX covers a wide range of sources. It started as an independent company and joined Elsevier in 2017.

The Plum Print and Altmetric Donut on the right.
Altmetric
Altmetric gathers data on scholarly works identified with DOIs, ISBNs and other identifiers. Its collection exists of data on outreach activities like blog posts, news items, tweets, Facebook posts, Wikipedia mentions and more.
Besides this, Altmetric collects data on patent references, mentions in policy documents, downloads and views from Mendeley. Altmetric uses a badge (Altmetric Donut) with different colours to present the attention of a publication on a web page, for every attention source a different colour. And in the middle of the badge Altmetric shows the overall "Altmetric Attention Score".
We advise not to use this score to enforce any statements about impact. You can use the score as a way to note that a publication gets attention, before diving into the sort of attention it has received.
PlumX
PlumX Metrics covers different types of scholarly output and uses more than 60 identifiers to track the online interaction of publications.
PlumX divides its data into five categories: citations, usage, captures, mentions and social media and displays these categories as different colours in the Plum Print.
How do I ensure that my publications show an "Altmetric Donut" or a "Plum Print"?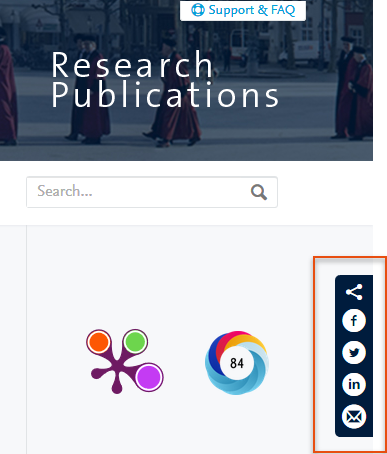 Your research output must be identifiable to be tracked. Make sure your publications have a unique identifier, preferably a DOI or ISBN. And don't forget to add this identifier to the corresponding Pure publication record. If your publisher or archive does not issue a DOI or ISBN for your publication, please visit the Altmetric and PlumX website to check for alternative options.
Please be aware that only those online activities that explicitly mention unique identifiers will be tracked. So if you tweet or blog about a publication, make sure to mention its unique identifier.
An easy way to do this is by using the "Click to Share"-bar in Research Publications next to the "Plum Print" and "Altmetric Donut". Click on the icon of the medium you want to share the publication, and your message will automatically include the publication's identifier.
More information
Contact the author or a subject specialist
Use this webform for all your questions and remarks. The author of this post or a subject specialist will handle your message and respond or contact you within 1 business day.
[su_spacer]
[et_bloom_inline optin_id="optin_6"]