Trends in educational technology
In close consultation with the faculties, the University Library is responsible for the Digital Learning Environment: your gateway to education. We offer tools and support connected to educational activities mostly used at Maastricht University. To be constantly aware of possibilities and challenges, we follow developments and experiences of teachers. That is why we visit conferences and share trends we heard about.
Online Educa Berlin Conference / December 2017
Although the conference theme is 'shaping the future of learning' no one was able to give THE recipe for how to adapt universities to the future.
The wrap-up video below gives a nice impression of what it looks like if more than 2,000 participants from over 80 countries stroll around in one venue.
Click the Online Educa Berlin image below to see the media-gallery with pictures and videos of the 2017 edition.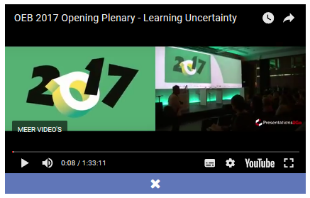 The following is an attempt to touch upon the main themes and topics without repeating all the speakers I had the joy of listening to or joined in discussions with.
Longevity and workplace learning
Abigail Tratford impressed with a strong appeal to prepare for a growing number of students entering higher education in a large variety of age. Instead of focusing on adolescents as the biggest population at higher institutes, we should be aware we notice that people are not taking a step back after their kids leave home. Due to better medical care and longer life expectancy more and more middle-aged students (with gained experience, knowledge and skills) come in and continue learning. They expect education and curricula to be flexible and fit to their situation. Institutes should prepare for longevity!
Some presenters made an appeal for workplace learning, which is growing into adulthood. Companies are investing more and more in (accredited) master programmes; focus on jobs is changing to careers in which time should be reserved for continuous training programmes.
Nice quote:
What happens if we train them and they leave?
What happens if we don't train them and they stay?!
As we discuss what we think is important in delivering good academics, it is always connected to skills like collaboration, problem solving and transfer theory into practice. What better learning context is the workplace? Try, act, make mistakes and learn!
Working towards the future
Nice home-takers came from the sessions on scenario planning (Ben Nelson) and change hacks (David White) as a way to make higher education institutes future proof. Changes in education are hard to predict, but it helps to just start thinking 'what if…'. Having conversations on topics, which seem still far away from your back door, make you prepared and willing to adapt.
Next edition will be held from 5-7 December and the call for papers has been opened.
Click on the image for the OEB 2018 programme.
[et_bloom_inline optin_id="optin_3"]