Self Archiving
Green Open Access
Self Archiving – Green Open Access
Maastricht University is an advocate of 'Green Open Access' and adopted a green open access policy on 28 February 2019.
Regardless of where a scholar publishes a manuscript, the corresponding author has to deposit the Author Accepted Manuscript (AAM) of peer-reviewd articles.
Submit your article
Use this form to submit the Author Accepted Manuscript (AAM, final author's version) of your peer-reviewed article (PDF) in Pure. The library will take care of the registration in Pure, including uploading the PDF.
UM Library mediated deposit service
The University Library takes care of the workflows and the legal formalities and provides all necessary support:
adding the correct metadata to make the output findable
adding the submitted publication to the Institutional Repository of Maastricht University (Pure) to make the output accessible
checking the submitted output format to make the output interoperable
taking care of embargo periods and copyright notices to make the output reusable.
All research outputs are registered in Pure and appear in Maastricht University Research Publications. This ensures the accessibility of the research output for everyone in the world, in some cases after an embargo period.
Embargos
In most cases publishers require an embargo period before you can self-archive your publications.
You can submit your Author Accepted Manuscript (AAM) as soon as possible after acceptation and the library will make sure that the publisher's requirements are observed. Your AAM will be made publicly accessible in combination with the information about and link to the published article after the embargo period has ended.
You can check publishers' copyright and self-archiving policies via the OA Journal Browser or the SHERPA/RoMEO database.
Copyright
By default, we provide a self-archived author version with a CC-BY-NC-ND license , unless the submitting author indicates otherwise.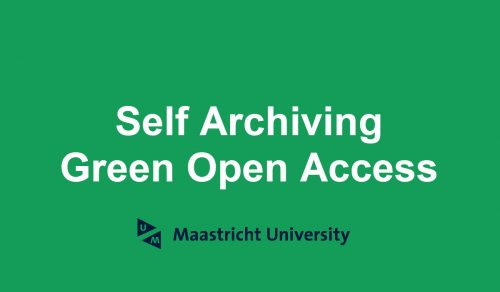 Feedback & Support
For questions or information about Open Access and self archiving, including article submission and related services and support, use this web form to contact Ron Aardening. 
Questions, Feedback & Support