Journal Browser
Research Support - Open Access
Open Access Journal Browser
Open Access without costs? APC discount? Check before you submit.
The Maastricht University Open Access Journal Browser contains information on more than 35,000 journals collected from several sources, including the UM/MUMC+ deals, the Dutch academic publisher agreements and the Directory of Open Access Journals (DOAJ).
You can check the Journal Browser before you send in your manuscript to find out about APC discounts. Next to information about the APC, you also find information about the impact and the options for Green Open Access.
Start your search for journals
About the Open Access Journal Browser
The information about journals in this list is aggregated from several sources and updated regularly:
Publishers Maastricht University has made APC discount arrangements with for Maastricht University and MUMC+ authors.
Publishers the Association of Universities in the Netherlands (VSNU) has made deals with to make articles Open Access.
Journals indexed in the Directory of Open Access Journals (DOAJ) and their APC information.
Journals that Scopus and the Journal Citation Reports cover.
Open Access and share information from publishers via Sherpa/Romeo (official publisher's policies).
How to use the Open Access Journal Browser
Search
Use the search box to look up journals. You can use the search box to search for terms in the journal titles or the titles and other metadata (e.g. keywords):
Type part of the title in the search box and press Search.
Select the title of the journal to read more information on the Open Access possibilities and instructions to get a discount (if available) and the journal impact.
Filter
You can apply additional filters to the search results. Among these, no/full costs and discounts for Open Access publishing, support on Open Access publishing in journals, and the quartile to which the journal's impact factor belongs.
Value
When you open the journal information page in the Journal Browser, the following information is available:
Information about the journal, such as the ISSN and a link to the journal's website.
APC discount information for the selected journal if it is part of an Open Access arrangement.
Impact measures from Journal Citation Reports or Scopus. 
Information from Sherpa/Romeo on the conditions under which you can make articles in the selected journal available via Green Open Access.
Recently published articles in the selected journal.
More information
Do you want to write and publish a journal paper successfully? If so, please sign up to receive our Open Access updates and guides.
Contact an expert
Would you please use the contact form below to contact our experts or to comment on this guide?
Contact form for questions and comments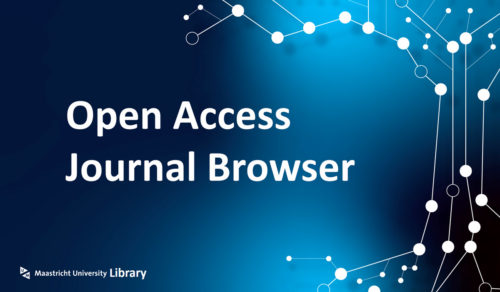 Research Support Overview
Page Contents
Use the menu to browse or use Ctrl+F | Cmd+F to search the guide.
Guide information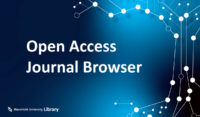 Author: Ron Aardening
Updated: 26/10/21 by Ron Aardening
Persistent link page: https://umlib.nl/oa-journalbrowser
Persistent link tool: https://umlib.nl/journalbrowser
Open Access Journal Browser is licensed under CC BY 4.0