RDM Support @UM
FAIR and Community for Data Driven Insights
FAIR and Community for Data-Driven Insights
Maastricht University endorses the principles of Open Science . Open Science is a new approach to academic research that aims to increase collaboration, both among individual researchers and between researchers and other parties. Open Science makes research more transparent, efficient, verifiable, reproducible and sustainable. The idea is that civil society organisations, patient organisations, companies and other organisations can all benefit from easy access to scientific research.
One element of Open Science is the issue of FAIR data use, which seeks to make research data Findable, Accessible, Interoperable and Reusable.
Maastricht University aims to be entirely FAIR by 2023.
FAIR principles
In 2016, the 'FAIR Guiding Principles for scientific data management and stewardship' were published in Scientific Data.
The authors intended to provide guidelines to improve the findability, accessibility, interoperability, and reuse of digital assets. The principles emphasise machine-actionability (i.e., the capacity of computational systems to find, access, interoperate, and reuse data with none or minimal human intervention) because humans increasingly rely on computational support to deal with data as a result of the increase in volume, complexity, and creation speed of data.


Image: SangyaPundir
FINDABLE
The first step in (re)using data is to find them. Metadata and data should be easy to find for both humans and computers. Machine-readable metadata is essential for automatic discovery of datasets and services, so this is a crucial component of the FAIRification process.
ACCESSIBLE
Once the user finds the required data, she/he needs to know how can they be accessed, possibly including authentication and authorisation.
INTEROPERABLE
The data usually need to be integrated with other data. Also, the data need to interoperate with applications or workflows for analysis, storage, and processing.
REUSABLE
The ultimate goal of FAIR is to optimise the reuse of data. To achieve this, metadata and data should be well-described so that they can be replicated and/or combined in different settings.
The principles refer to three types of entities: data (or any digital object), metadata (information about that digital object), and infrastructure.
You can find detailed information at go-fair.org/fair-principles/
What is already happening at Maastricht University?
Maastricht University (UM) aims to implement the FAIR data principles to enhance the visibility of high-quality research data and to create added value through the potential reuse of published research and the underlying data. UM is committed to working with its researchers to develop appropriate and efficient strategies for the long-term preservation of research data, and to ensure that data are reused responsibly.
To achieve this, UM research-data service providers have launched a joint initiative to support researchers and research groups in all aspects of research data management and FAIR principles.
This initiative operates under the name Community for Data-Driven Insights (CDDI).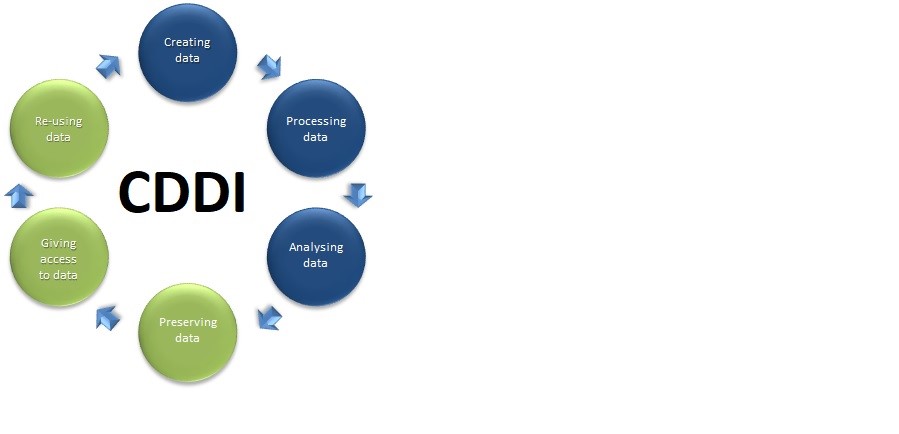 Within this community, we focus on four aspects:
data science
infrastructure
expertise
service
A selection of services and developments:
Data science is an interdisciplinary field focused on the methods, systems and workflows used to obtain insights from data.
The Institute of Data Science (IDS ) aims to tackle impactful research problems through multidisciplinary teams involving students, researchers, partners and stakeholders in and outside the university. IDS aims to train the next generation of data scientists to be even more collaborative and interdisciplinary.
Infrastructure: CDDI partners are developing and providing FAIR-compliant tools for both short- and long-term data storage.
DataHub aims to ease the burden on the researcher concerning all aspects of data management and secure data storage, to let you focus on your passion: conducting research. DataHub works according to the FAIR principles and helps you make your data Findable, Accessible, Interoperable and Reusable. It serves as a data broker for the FHML and MUMC+, enabling the reuse of data by researchers in the university, the hospital and beyond.
DataverseNL is a national FAIR-compliant repository for research data. At UM it is managed by the University Library . Dataverse provides a reliable and secure environment for describing, managing, storing, sharing and publishing different kinds of research data. You can use Dataverse to store your data for 10 years (or more) after the last publication related to your research project, as required by UM's code of ethics.
ICTS provides network storage and tools like SURFdrive and SURFfilesender.
IDS and ICTS are working together to develop state-of-the-art infrastructure which will enable maximum flexibility based on software-defined storage (SDS) using the MapR Converged Platform, and software-defined computing (SDC) using Docker containers orchestrated by Kubernetes. This infrastructure is based on the scale-out principle, which means storage and computing capacity can be increased by adding new cluster nodes. Both SDS and SDC will be able to satisfy most of the current and future data management, and computing needs a scientist will have.
 
Expertise: The CDDI community is developing training modules to share knowledge. For more information, see the Education section on the IDS website and the Workshops & Courses section of the University Library. We also aim to share practical information, developments, news and events through this RDM Portal.
Service:
A team of data stewards provide research support within the faculties.
We are designing an institutional data management plan template approved by funding agencies. The template will soon be available for use, and you will be able to write your data management plan using an online tool called DMP Maastricht .
MEMIC, the centre for data and information management at the FHML, assists researchers in data collection, information management and knowledge extraction. MEMIC can manage the data during your research project and help you ensure it meets the FAIR principles.
We are working with researchers to pilot the FAIR ambition and provide the necessary support.
 
What is happening at the national level?
The National Plan Open Science focuses on three key areas:
100% open access publishing
optimal reuse of research data
corresponding evaluation and valuation systems.
The parties involved with the National Plan regularly take part in the discussions of the National Platform Open Science (NPOS).
The NPOS has identified 10 projects to be carried out. In terms of research data, project E and F are of most interest:

Project E will explore and optimise the national data landscape
Project F focuses on the professionalisation of education and training in open science and data stewardship.
The National Coordination Point for Research Data Management (LCRDM) facilitates a nationwide strategy for research data management (RDM).
It aims to form the link between policy and solution. Experts work to put RDM issues that are too big for institutes to tackle alone on the national agenda.
The LCRDM brings together research support services, policymakers, ICT specialists, managers of research institutes and research funding organisations. It coordinates and facilitates collaboration between the various RDM stakeholders.
The goal of the LCRDM is to make RDM an integral part of education and research practice in the Netherlands.
The Dutch Techcentre for Life Sciences (DTL) is a public–private partnership of more than 50 Dutch life science organisations. A network of professionals working to improve the research infrastructure for life sciences in the Netherlands, it focuses on accessible high-end technologies, FAIR data treatment and expert training.
What is happening at the international level?
GO FAIR is a bottom-up, stakeholder-driven and self-governed initiative that aims to implement the FAIR data principles, making data Findable, Accessible, Interoperable and Reusable. It offers an open and inclusive ecosystem for individuals, institutions and organisations working together through Implementation Networks (INs). The INs are active in three activity pillars: GO CHANGE, GO TRAIN and GO BUILD.
What can you do?
Keep its principles and UM's commitment and support in mind whilst writing the data management paragraph on a funding application.
Make sure your publication is accessible via our repository (either right away or after a publisher's embargo has expired.)
Strive to make your research data FAIR. In doing so, remember it is FAIR principles – FAIR is not a standard. Neither is FAIR equal to open. Partly FAIR maybe FAIR enough
Source: https://doi.org/10.3233/ISU-170824  
Support:
Contact the data steward at your faculty if you have any questions about research data management or FAIR data. They will be happy to provide advice and support, or point you to specialists who can answer to your questions.
Benefits of FAIR data
For you as a researcher:
Increase the visibility of your research / maximise research impact
Receive more citations and new opportunities for collaboration
Satisfy the data-management expectations of funding agencies, journals and peers
Save time and avoid duplication of effort by reusing an existing dataset
More easily reuse your data for new purposes
Improve quality through verification and validation of results
For the research community:
Make it easier for other people to find, use and cite your data, and clarify what you expect in return
Ensure future availability of the data
Make data available for data-driven discovery
For society:
Enable others to verify your work, increasing public trust in research
Facilitate reuse of data in the private sector, which enhances innovation
This RDM Support @UM portal is maintained by the Research Support team of the UM Library. The content is provided and monitored by the CDDI partners.
For questions or support with regards to specific services, please use the contact information provided by the supplier of the service. Use the support form above for all your general questions and remarks. Or if you don't know who to turn to for support.