Study places within the UM Campus
Study places within the UM Campus
Do you want to study individually in a quiet room? Or do you prefer to study with your fellow students in a group room? The University Library has a wide variety of study places at different locations available for you. Click here for an overview of learning spaces, available during the complete academic year at the Maastricht University campus.
Where could you go?
1. The UM Library study places
The University Library offers over 2500 study places that can be found in the Inner City Library, the Randwyck Library and the 3 Learning Spaces (Bonnefanten Learning Spaces, Tapijn Learning Spaces and University Sports Centre Learning Spaces). These locations offer individual and group work places, quiet work places, and study places with and without a PC. An overview of the opening hours can be found here.
2. Informal study places at faculties
In addition to our study places in the library locations, you can find 1800 so called informal study places across the UM Campus. These study places are available for students who want to learn in a more informal setting, such as a common room or a catering facility (for example Mensa, Bandito Espresso or Rivazza). These study spaces are mainly located in faculty buildings and are ideally suitable for group work. Since there is a WiFi connection, you can bring your own device to study.
The locations of the informal study places are mapped in this overview (click the image, or bear in mind the url: umlib.nl/informalstudyplaces).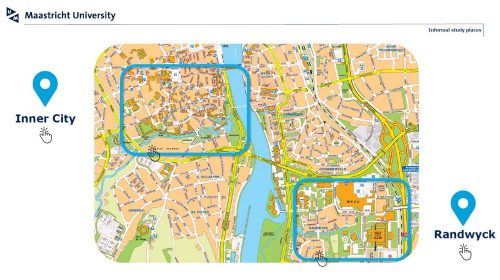 3. Bookable rooms within UM campus
If classrooms at faculties are not used for education purposes, you can reserve them to study via the Student Portal in 'Book a Room'.
Author: Loes Pustjens, UM Library Communications Officer


This article is licensed under a Creative Commons Attribution 4.0 International (CC BY 4.0) License.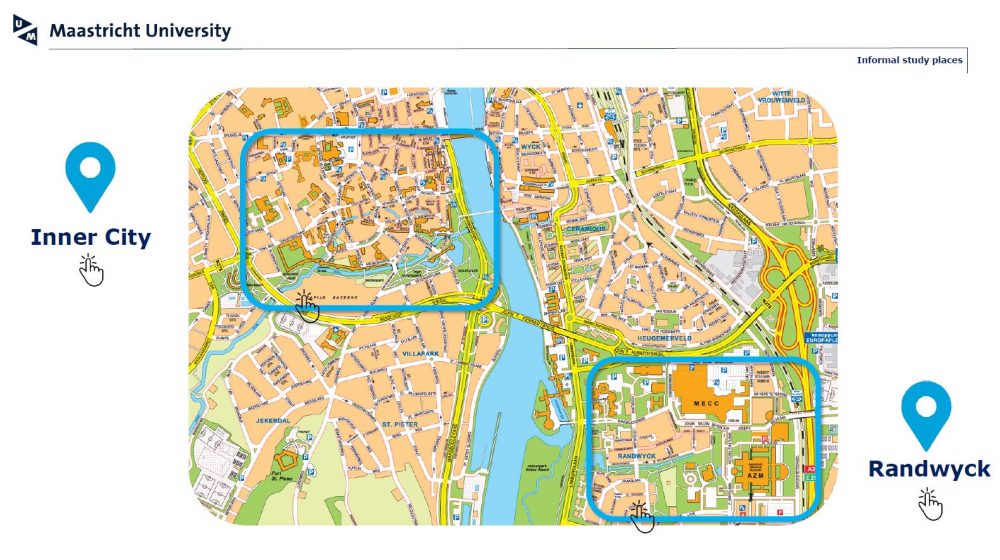 Post information
Keywords:
Last updated: 03/10/19