On 18 February the Association of Dutch Universities (VSNU) presented an E-zine on the successful Dutch approach to achieving Open Access. Dutch universities are working together to make scientific articles freely accessible to everyone. Big steps have been taken towards 100% Open Access (OA), which has been recognised and applauded in the international academic community.
In this magazine, fifteen milestones are highlighted, as well as the definition of OA, the role of publishers, the process of negotiations with publishers, and the critical factors for success in the unique Dutch approach. The principle of OA is not in dispute so, expectedly, institutional policy makers will increasingly promote this dynamic field.
VSNU president Karl Dittrich's statement on OA
"In October 2014, I stated that although the Netherlands is not alone, I am confident our country is leading the way towards open access. It is up to you to be the judge of this, as you read through this e zine. Dutch universities have together taken great steps towards enabling open access to scientific articles for everyone. Contracts with large publishing houses have been concluded whereby the articles of our researchers can now be openly accessed online, at no extra cost. More and more publishers are willing to make the switch to open access publishing. Some publishers want to make the switch right away, while others are willing to do so in smaller steps."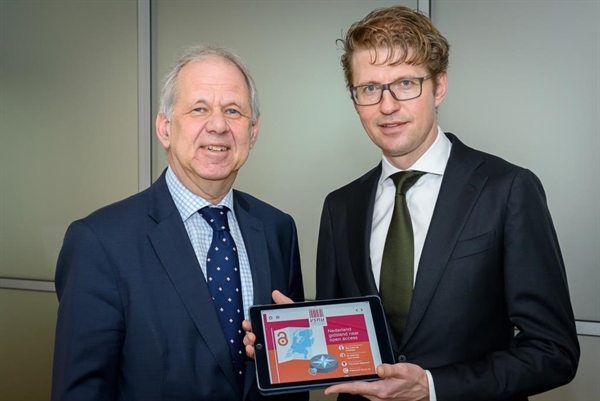 VSNU president Karl Dittrich symbolically presents  the E-zine about
Open Access on a tablet to State Secretary Sander Dekker (18 February 2016).
More information on OA for Maastricht University researchers