XXL hours from Saturday 5 – Thursday 24 October
XXL hours from Saturday 5 – Thursday 24 October
Need a place to study? During the upcoming exam period, the library offers UM students extra opening hours from Saturday 5 – Thursday 24 October. Also check out the 24/7 studying at the Studenthotel Maastricht, the overview of informal study places and bookable rooms within UM campus. Please note: access to the library locations and the Studenthotel with your UMcard only.
Extended hours in four locations
Inner City Library
Saturday 5 – Thursday 24 October : 08.00 – 24.00
For a break: FFWD will be open Monday – Friday 09.00 – 19.00 | Saturday – Sunday 10.00 – 20.00
Randwyck Library
Saturday 5 and Sunday 6 October: 08.30 – 18.00
Saturday 12 and Sunday 13 October: 08.30 – 18.00
Friday 18 October: 08.30 – 22.00
Saturday 19 and Sunday 20 October: 08.30 – 18.00
For a break on Saturday and Sunday: FFWD will be open from 11.00 – 15.00
Bonnefanten Learning Spaces
Saturday 12 and Sunday 13 October: 08.30 – 18.00
Saturday 19 and Sunday 20 October: 08.:30 – 18.00
For a break: Coffeelovers will be open from 08.30 – 18.00
24/7 at Studenthotel
During XXL weeks, both the restaurant and the lobby at Studenthotel provide a quiet and safe environment and have good WiFi connections. Please note:
Students can use the Commons, the restaurant of the Studenthotel from early morning, 7 am, to midnight. From midnight onwards, the lobby of the hotel offers quiet study spots.
Own food and drink cannot be brought but the Studenthotel offers a 20% discount in its restaurant. In the lobby small snacks are allowed.
The Studenthotel and restaurant The Commons are located at: Sphinxcour 9A, 6211 XZ Maastricht
Additional study places within UM Campus
Preparing for your exams? Busy in the University Library? Check out all 1800 informal study spaces available during the whole academic year at the Maastricht University Campus, mapped by the University Library. You can use these spots if you want to study with your own device; there is a WiFi connection. Please note: the opening hours may differ from the library opening hours.
You will find these study places in this overview (click the image):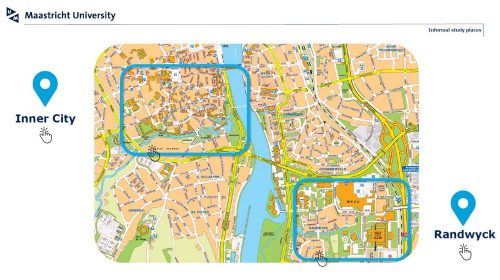 Bookable rooms within UM Campus
If classrooms at faculties are not used for education purposes, you can reserve them to study via the Student Portal in 'Book a Room'. You can also find other bookable rooms within UM buildings in this system.
Author: Susanne Snijders, UM Library Communications Officer


This article is licensed under a Creative Commons Attribution 4.0 International (CC BY 4.0) License.