Annual Plan
2019 - 2020 | the 4 themes
Learning spaces
A good learning environment is a must have for effective study. We are working on learning spaces that fit to the variety of study programmes and levels from the idea that UM is a large study campus. For this, there are generic study places in the 2 UL locations and 3 UL learning rooms to study as a group or individually. From January 2020 there will be new learning spaces in the new Tapijn building and we want to create extra study places within the existing locations. To become more familiar with all the possibilities, an app is made and the study places can be reserved. In addition, faculties are looking at these buildings to make extra facilities available for studying. There are also opportunities for studying outside UM, such as at the Student Hotel, and the and the use of more of these facilities for study is being explored.
Education support
In education support, the renewal of the digital learning environment (EleUM) is the most striking. After a trial run in 2019/2020, the switch to Canvas will be made on 1 September 2020. Students will face new educational blocks with a new look in which personalised learning is facilitated. Teachers can count on support in developing education, with or without the use of videos. A new teacher portal on the Online Library will ensure that all information is in one place. There will also be more digital testing; a good basis for completing the cycle of learning, testing and feedback, learning again and testing.
Academic information
Within the academic information theme, the activities focus on better findability of information, available for the student to study (a new reference list), familiarising them with the increasing presence of scientific information and which rights and obligations the user and / or its creator have in using information sources. And this involves much more than just traditional, written sources such as books and journals that are becoming more open and publicly accessible, but also, and more and more, about information formats such as data, video and audio. Training and advice are adapted to this and strengthen the digital competences.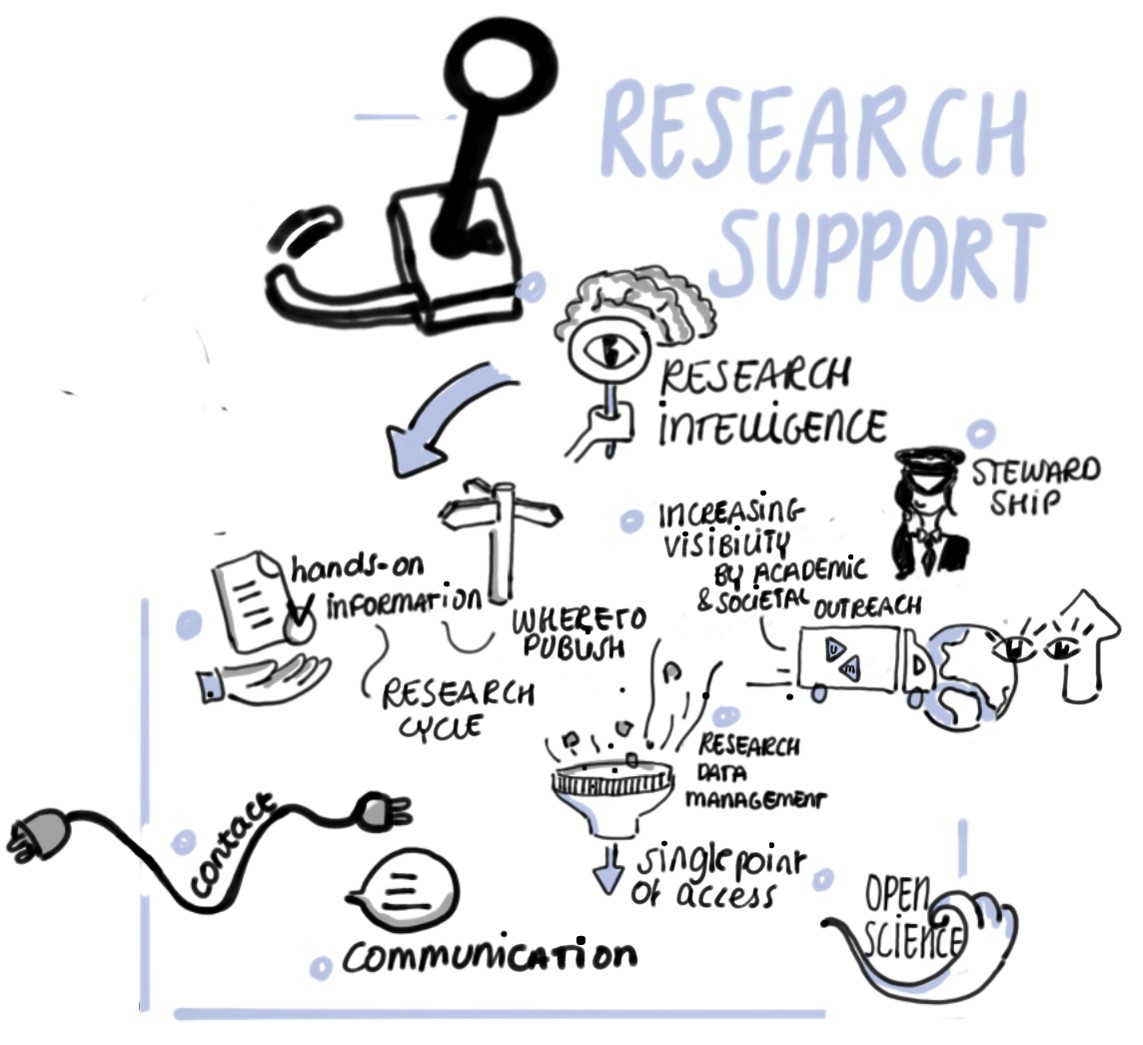 Research support
Research support is dominated by Open Science developments with a focus on publishing and making research results public, increasing the visibility of UM research and offering support in Research Data Management. Among other things, data stewards will be recruited, research intelligence (eg bibliometric analysis) will be worked on, a one-stop-shop digital information point set up and informative talks given to research groups about the possibilities for (Open Access) publishing and visibility of research and other UL services.