Samantha and Angelica are the two students on an expedition in China following the travelogues of the Jesuits based on Kircher's China Illustrata, which is part of the Maastricht University Special Collections. They are on their way to Tibet now.  
Samantha and Angelica crossed the Yellow River, able to do so via one of the many bridges existing today which are a luxury that was not available to the Jesuits travelling in the 17th century.
Although they crossed the bridge twice over the course of their travels, they did not document the means by which they did it, a fact that was keenly observed and speculated upon by the girls.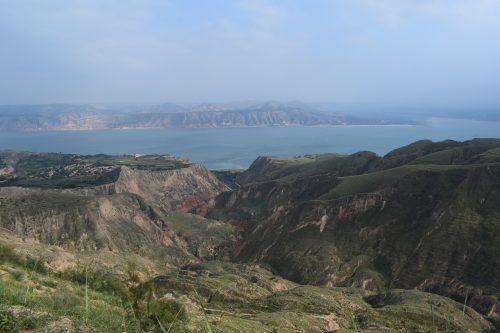 The next leg of their journey took them to Xining, the last outpost of the erstwhile Chinese empire. The journey so far of 1800 km was undertaken by the girls in 10 days, meanwhile it had taken the Jesuits two months! What used to be a key point of travel in the silk route is now like any other Chinese city. However, as the girls get closer, the signs of Tibetan culture and influences are still present in the city.
Finally making their way to Lhasa, Samantha and Angelica took a 24-hour train ride to cover the 2000 km journey which went through vast uninhabited fields and mountains as high as 5027 m. The convenience of modern travel is emphasised by the fact that it took the Jesuits three months to travel through the Tibetan plateau! 
However, the train journey had its own difficulties seeing as this was the highest railway in the world. The air thinned as they reached higher altitudes and the train was equipped with personal breathing tubes for the passengers, in addition to the supplementary oxygen already being pumped into the carriages. This thinness of air was a phenomenon keenly noted by the Jesuits although there had been many alternate explanations for it offered by many in that time, before scientific proof was present.
Follow Samantha and Angelica's expedition as they make their way to Lhasa by subscribing to updates at their blog: Two Girls on Expedition in China.
The Expedition in China was made possible with the support of the University Fund (Universiteitsfonds) and the Maastricht Academic Heritage Fund. Special thanks to the UM Language Centre.