HeinOnline's new Knowledge Base is a resource for information on content, searching, and navigating in the HeinOnline interface. It provides assistance with all aspects of search, access, export, and personalization. The Knowledge Base is full-text searchable, and each article is categorized for easy browsing.
How Can I Access the Knowledge Base?
To select the Knowledge Base, click the Help drop-down menu located in the top right corner of any page in HeinOnline, which is also available at help.heinonline.org: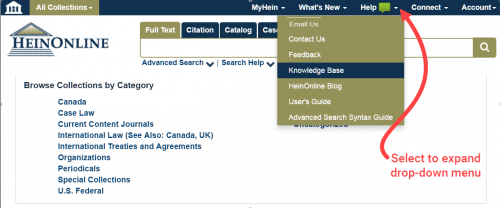 The Knowledge Base is now full-text searchable, and each article is categorised for easy browsing. Six popular categories appear on the Knowledge Base homepage, and others are accessible by clicking them from within search results:
As you enter your search terms, results will auto-fill as you type. You may then select any suggested article about your topic: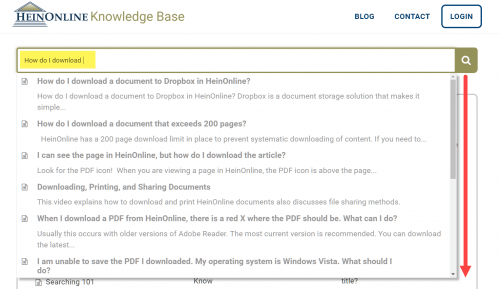 Once you enter the article, all applied categories are listed above it. You may click any of the applied categories to view more information on each:

Don't forget to check out the section of new HeinOnline training videos provided by Quimbee! These videos will explain the basics of HeinOnline content, searching and navigation.
Source: HeinOnline Blog