Information is everywhere around us: from (digital) books and articles to news alerts and videos. We need skills to deal effectively with this abundance of information. When researching and writing paper assignments, as well as preparing and studying for classes, students independently find, evaluate, use, and present information – in other words apply information literacy skills.
What is the Information-Wise project about?
Information-Wise is a university-wide education innovation project that will further improve information literacy skills education at Maastricht University. EDLAB, the University Library, and all six faculties formed a project group to develop an evidence-based information literacy skills programme for bachelor students.
The project consists of two work packages:
The first work package aims to identify bachelor students' struggles and needs to effectively use information in the learning process.
Work package 2 targets the creation and testing of a university-wide information literacy skills programme for bachelor students and will deliver relevant teaching material for teaching staff.
What is in it for teaching staff?
The Information-Wise project team is currently developing an UM information literacy framework. The framework provides a vision for skills support that includes the holistic view on information and covers the full range of recent digital and technological developments. To fill this framework with examples, the project group is currently working on learning goals, teaching activities, and assessments that can be adapted and integrated into the (PBL) classroom.
Contribute to our project
The University Library is continuously working on improving the quality of its skills education support. Therefore, we would like to ask for your participation in our Information-Wise project. It aims to get an in-depth understanding of the challenges students face when dealing with information and provide pointers as to how we should move forward.
In case you are teacher and you missed out on the UM Communication mail for the Information-Wise survey you can access the survey via the following link: umlib.nl/information-wise-teacher-survey
A big shout out to the UM students. Already 400 students filled in the survey. You can still win one of the 10x Albert Heijn vouchers worth €50 and help us by filling in the survey via the following link: umlib.nl/information-wise-student-survey
You can complete this survey up to and including Friday 5 July.
Want to know more?
For more information about Information-Wise, please visit the project's website (by clicking the image below) or contact: j.pichel@maastrichtuniversity.nl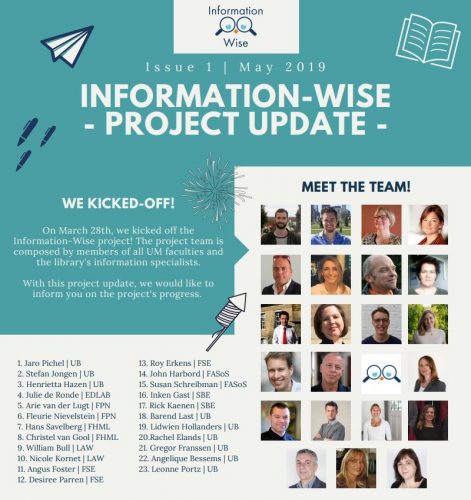 Author: Jaro Pichel, Educational Specialist | Project lead "Information-Wise"


This article is licensed under a Creative Commons Attribution 4.0 International (CC BY 4.0) License.