Join the virtual library and 'Study 2gether Online'!
Join the virtual library and 'Study 2gether Online'!
Imagine this: studying at the library without having to book a study place, always a study spot available, and no need to wear a facemask. That does sound pretty good, especially now exams are coming up, right? Lucky for you, all of this is possible in our new virtual library called 'Study 2gether Online': a dynamic online environment where you can study together with your fellow students.
Study, socialise and learn
Study 2gether Online will give you the real library experience. Not only is the environment an exact copy of the Inner City Library's ground floor, you will be able to see other students around you to keep you motivated. Just like in the real world, library students and staff are there to help you with your questions at the information desk. You can attend study sessions, supervised by library staff, which follow a regular pattern of 50-minute study blocks followed by 10-minute breaks. Spend your break at our beloved garden or cafeteria to talk to your friends over a cup of coffee or tea. Are you struggling with your thesis or paper? PeerPoint is there to assist you. And last but not least, there are a bunch of fun games to play for the procrastinators among us (you know who you are!). We are planning to host wellbeing events in the future.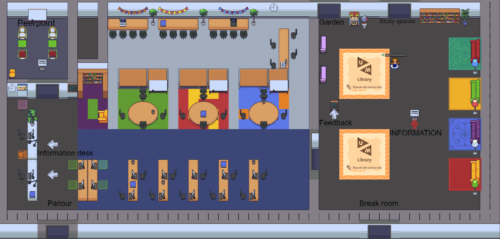 Accessibility
Study 2gether Online is 24/7 accessible via Gather.town (log in with your UM e-mail). The first time you log in, you will see a short introduction. You can either meet up with friends and fellow students, or enter the room by yourself. The study sessions are on Mondays, Wednesdays and Friday from 9.00-12.00 and 13.30-16.30, and on weekends from 12.00-16.00. The PeerPoint opening hours are on Monday, Wednesday and Friday from 14:00 – 16:00 and on Tuesday and Thursday from 12:00 – 14.00. The service is available until 2 July.
Other virtual UM environments
UM will also offer a virtual environment in the same platform (Gather.town) where students can catch up and chat, and help each other out. An informal online space that allows for new encounters and strengthens our community. Because UM is a close-knit community, both on and off campus, offline and digital. Join the UM-wide digital environment (UMIFY) now. See you online!

This article is licensed under a Creative Commons Attribution 4.0 International (CC BY 4.0) License.