Library book sale proceeds for 'Care for Beira'
Library book sale proceeds for 'Care for Beira'
Every two years UM Library organises a book sale of older and not-anymore-used books from the library and learning resource centre. The proceeds are destined to a project for the Maastricht University (UM) community, within the library or for a good cause. This year we decided to donate to 'Care for Beira', for the Universidade Catolicá de Moçambique (UCM). This university suffered from a terrible hurricane that demolished a big part of the buildings and infrastructure, including the library.
Additional reason
UM has a longstanding cooperation with the UCM about Problem-Based Learning and community oriented medical education via SHE Collaborates. UM Library participated in some of the projects, an additional reason for us to support UCM.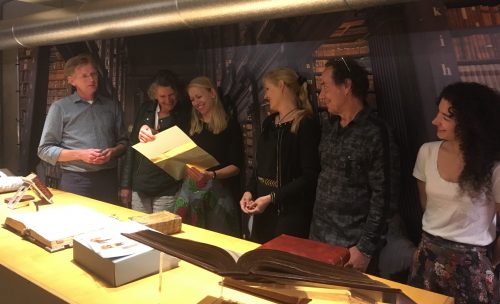 On Tuesday 28 May in a small ceremony, book sale organisers Elke Hamelers and Philip Kalisvaart handed over a cheque of nearly €2,500 to Marlieke Bouwmans of SHE Collaborates, who will be flying to Moçambique this week (see picture).
We are very happy to be part in the renovation and further development of UCM!
Author: Fons van den Eeckhout, Medicine, Health Sciences and Psychology Librarian 


This article is licensed under a Creative Commons Attribution 4.0 International (CC BY 4.0) License.