Massive growth of Lecture Recordings at UM
Massive growth of Lecture Recordings at UM
At Maastricht University 4000 videos – most of them lecture recordings – have been uploaded in 2018 to its video infrastructure Mediasite. A growth of almost 1500 compared to the previous year.
Common practice
Just a few years ago hardly any UM lectures were recorded. Due to new regulations at some faculties, making lecture recording more common, almost 4000 lectures were uploaded in 2018 (figure 1) and published to its students. And the number is still rising.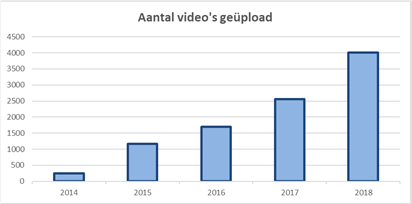 Figure 1
Student video assignments
Most of the videos in Mediasite relate to lectures. The number of UM created knowledge clips is still small – though several reside in YouTube and the real number is unknown – and growing slowly. It is difficult to determine why this is staying behind but lack of time and limited teacher support in the video creation process might be important reasons.
We do see an increase in the number of student video assignments in which students are required to hand in a video. The new generations seems to be more at ease with this medium and it is refreshing to see their creativity and the quality they can accomplish with mainstream smartphone cameras and freely available editing software.
Some more numbers
Though the uploads are spread quite equally throughout the academic year (figure 2), the exam weeks have been clearly identified as peak moments for students to view those same videos (figures 3 and 4). In 2018 UM videos were viewed over 470.000 times, totaling a playing time above 142.000 hours.
And for those keen on browser statistics: A near 50% of views were generated through Chrome and 24,4% originated in Safari.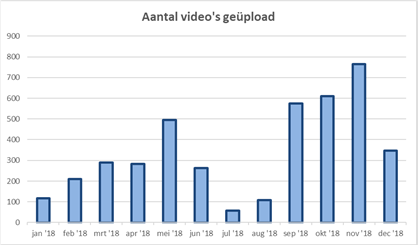 Figure 2


Figure 3


Figure 4
More info
Please see the VideUM contact page if you have any questions concerning the use of video at Maastricht University.
Author:
Charles Bollen, Service level manager, Projectmanager Education and Support, University Library

This article is licensed under a Creative Commons Attribution 4.0 International (CC BY 4.0) License.