Today, Tuesday 31 January 2017, we introduced a newly designed Databases section in the Online Library. You'll notice some changes in the look-and-feel, but the biggest change is related to the way searching and selecting works.
The Databases section is one of the most popular parts of the Online Library. We redesigned this section to meet changing user requirements and new technologies.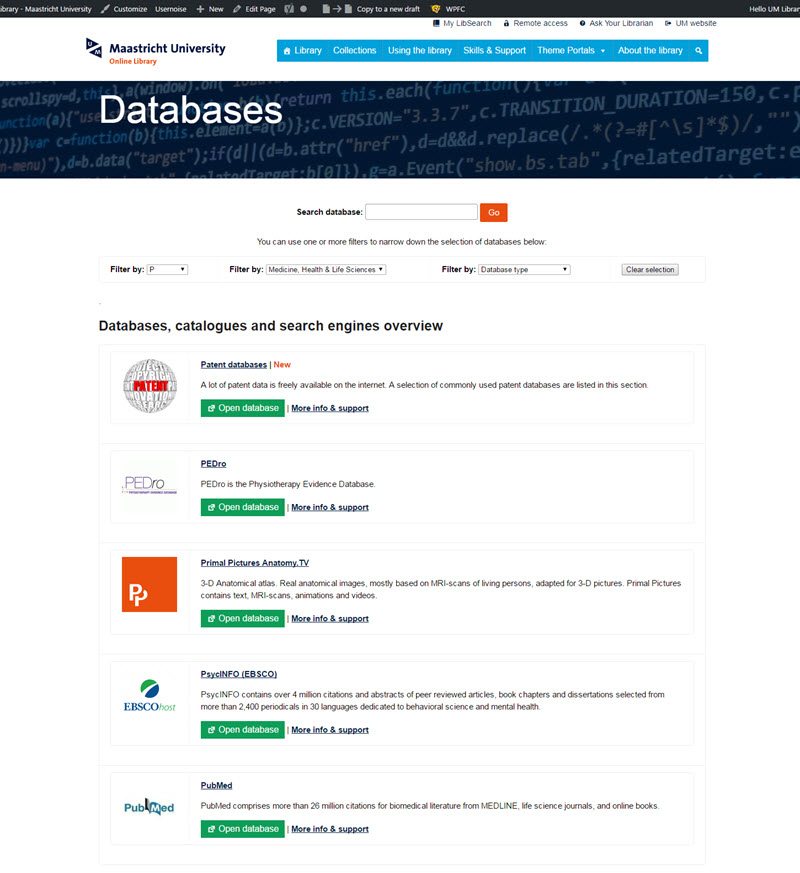 The most important features you'll notice:
The databases landing page
has a cleaner design, matching the other parts of the Online Library AND is optimised for mobile devices
has an alternative page for each discipline for better access
The databases search and sort module
has a cleaner design and the search and sort functions can be used together or separately
shows only relevant options for your selection
adjusts the listing on the fly after every selection 
has a new "Clear selection" button to easily undo your choices
shows a 'spinner' when working
The databases listing
is always displayed on one page
shows a button to open the database and a text link for "More info & support" 
gives you access to the full text of all the databases we subscribe to; you will be prompted to login (once) if you are outside the UM network   
shows the status of a database (new, test, not available) behind the database title 
The new pages
In addition to the changes mentioned, there are a lot of 'uninteresting' technical and functional improvements.
We have tested all functions and links. However, if you see something that is not working properly, please let us know by responding to this post or use the feedback tab of the Online Library.
You can always use the feedback tab on the right of the Online Library for all your remarks and suggestions.