Open Education and PBL: looking back on the OE Global Conference
Open Education and PBL: looking back on the OE Global Conference
Recently a UM Library delegation visited the Open Education (OE) Global Conference, a yearly organised conference, this year in Delft. At the OE Global the world meets to discuss how Open Education helps us achieve universal access, equity, innovation and opportunity in education.
Around 350 participants discussed Open Education from the perspective of governments, higher education institutes, libraries and publishers: what is it and why choose for it? And what about strategy and vision?
Open education philosophy
The 'what and why' was addressed by the Dutch minister of Education, UNESCO and the European Committee. The minister shared the ambition that by 2025 all Dutch teachers share their educational material. Front runners in higher education are Delft, Leuven and Edinburgh universities. OE builds upon the Open Science philosophy to share information and knowledge with those who have no or difficult access to (higher) education.
Good practices in education
An inspiring example was presented by the German Kiron University and how they enable access to higher education and successful learning for refugees through digital solutions. By doing so, they overcome barriers like costs, legal issues, language and cultural differences to help refugees attend higher education.
Other presentations showed how teachers share and (re)use learning material from colleagues, within and beyond their own domains. Or how teachers invite students to search for alternatives or create own material to add to a growing collection of Open Educational Resources (OER).
Open Education is more than MOOCs and has the potential to contribute to 'inclusiveness', flexible and adaptive education and quality of education. Interesting to know: the more courses, educational videos and other material are shared under Creative Commons, the less dependent teachers and learners become of publishers. This leads inevitably to new tasks for libraries (parallel to the OER Librarian who has already become quite common in the US).
'Going open' does not necessarily mean that you need to offer education to the whole world. You can also start by making your own material, course, curriculum or institute, available to everyone on campus and curating OER for integration in UM education. Actually fitting the Problem-Based Learning (PBL) tradition very well, by expecting students to (learn to) search and judge (open) educational resources beyond a literature list, and from a multidisciplinary perspective.
Open education and the library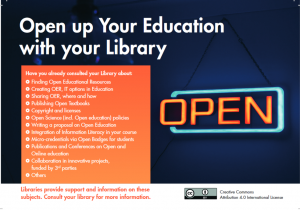 What struck us was that, similar to the Open Access development, university libraries often were the ones to take the lead in creating awareness and supporting initiatives at faculties, especially there where strategy had not yet been defined on this theme. In the Netherlands several university libraries (including UM Library) already started to join forces within a national (UKB) task force. During the conference representatives of this task force agreed on extending this collaboration to other university libraries in Europe, building on SPARC Europe.
Libraries also shared experiences on creating a Library for Learning (Wageningen University) and online modules on how to find and assess open educational resources (like UM Library developed with FHML and FASoS).
And as you might know already, UM Library hosts a webpage on Open Education, where you can also find information on several UM projects which have been granted by SURF/OCW to explore how open education can serve our education.
Interested to learn more about this topic?
Frederike Vernimmen and Gaby Lutgens