Facilities for the disabled
Use the library
The Inner City Library, the Randwyck Library and the University Sports Centre Learning Spaces are easily accessible for people with disabilities. You can reach almost all parts of the buildings using a lift. All buildings also have an accessible toilet.
Special study place
The Inner City Library offers a study place with an electronically adjustable tabletop on the ground floor, just ask at the information desk. In the Randwyck library, our staff will assist you in finding a suitable study place.
Parking space
There is parking space at the Randwyck Library (Universiteitssingel 50) and at the University Sports Centre Learning Spaces (P.Debijeplein 15)
In the inner city there are various parking places for disabled visitors:
in front of the entrance to the library on the Nieuwenhofstraat (one place)
on the corner Nieuwenhofstraat/Zwingelput (two places).
Content related services for visually impaired students & staff:
The content the library offers is not always available in an accessible format (e.g. audio or large font books), but we strive to offer resources in e-format as much as possible. This makes it possible to zoom/enlarge the documents, have them read aloud (standard option in PDFs) or (sometimes) convert to braille.
If you need an additional tool to convert text to speech, you can request access to the TextAid license.
If a specific resource is not digitally available, contact us to see whether we can convert it (taking copyright issues into account) or find an alternative title for you.
If searching in the databases is difficult, we can connect you to a buddy (often in cooperation with the faculty you work/study).
Websites, systems and databases the library uses are WCAG-compliant (meaning that font-types and color use meets requirements, and where applicable 'text to speech' options are available). Please let us know if you run into problems with a specific website/tool.
Other options to consider (in consultation with the faculty):
Contact your course coordinator (and if you know who will be) your tutor(s), before the course period starts.
Request for early announcement of the required readings/resources (via disability office).
Use your own laptop or tools (and if you do so, let us know if you run into problems using them in the library).
Information on creating accessible course material
As host of the digital learning environment of Maastricht University (Canvas), we also provide support to teaching staff in creating Canvas courses and embedding course material. We joined forces with the disability support office in gathering some guidelines for creating accessible course material.
Disability Support
Are you a student at Maastricht University (UM) who has a physical, psychological and/or sensory disability, a chronic disease or another condition such as dyslexia, ADHD, autism or Crohn's disease? Then you can apply for (financial) support to make studying with your disability easier.
You will find more information in this video or on the Maastricht University Website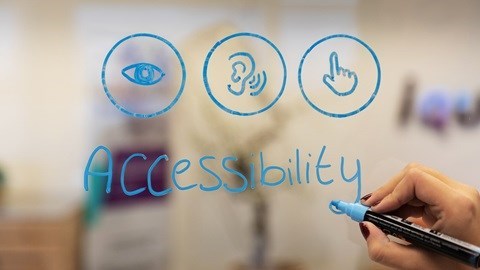 Contact & Support
For questions or information, use the web form to contact a library specialist.
Ask Your Librarian - Contact a library specialist