Software in the library
Use the library
Software in the library
Students can use software provided by the library at all study places equipped with a computer in both University Library locations, in the Randwyck Computer Facilities and in the LINK café.
Applications
The software offered by the University Library can be divided into generic applications for all UM students and faculty-specific applications. The latter programs are installed by the library at the request of an individual faculty and are only available for students of that particular faculty. This means that what exactly is available to you changes over time.In case you would like to have additional software available it is important to notice that only faculty staff can request additional software.
2 types of computers
There are 2 types of computers available within the University Library. Everyone will be familiar with the regular Personal Computer, but next to that we also offer Thin Clients. These so-called TC's offer almost the exact same functionality, except for the lack of a DVD drive.
I: drive
A last important feature to be aware of is your I: drive. All applications in use within our Student Desktop automatically refer to this drive for saving your documents. No matter if you are working on a PC, TC or via Student Desktop Anywhere, you will always have this I:drive (My Documents) available.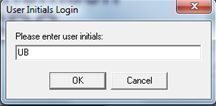 Contact & Support
For questions or information, use the web form to contact a library specialist.
Ask Your Librarian - Contact a library specialist