Theme webinar on TestVision
During our first 2021 theme session -provided by Tineke de Beaumont and Maartje Hensgens- we will discuss Maastricht University's digital exam tool TestVision.
Date: 19 January 2021
Time: 11:00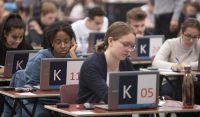 Digital exam tools can improve the content of an exam, by offering more options for collaboration and question formats. The elimination of the paper workflow saves time and makes grading open-ended questions much easier. The whole process is contained within a secure environment, that you can access from anywhere in the world. You can collaboratively develop questions in the item-bank, and students can give and receive feedback within the software.
Background information: