Trends in higher education – looking back to the SURF Onderwijsdagen 2017
Trends in higher education – looking back to the SURF Onderwijsdagen 2017
On 7 and 8 November the annual SURF Onderwijsdagen took place in Rotterdam. Two days filled with inspirational presentations and conversations with colleagues from nearly all educational institutes in the Netherlands. Some numbers to start with: nearly 850 participants, 15 plenary and 50 parallel sessions, around 7 themes:
Online & blended education 
Digital Assessment
Learning analytics
Logistics
Digital learning environment
Open educational resources
New technologies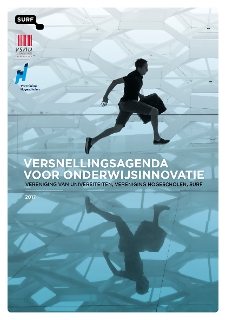 The main theme "Onderwijs in beweging" was illustrated by a fascinating opening act with acrobats and dancers. Maastricht University was well represented with colleagues from EDLAB, Academic Affairs, the University Library and several faculties. We also shared our experiences in three parallel sessions. In this Library Wall news flash we want to inform you on some highlights and lessons learned.
Please note: most links below refer to Dutch movies, websites and presentations.
Open educational resources
The pre-conference focused on open educational resources. A topic which UM Library is paying attention to from the perspective of content curation, creation and sharing (also from an infrastructural perspective) and supporting teachers and students to search and select open resources. Especially in the health domain creation and reuse of these materials is growing, but also the SURF/OCW funded projects require sharing education and resources with all who is interested (opposed as only with your 'own' students).
Maastricht University has received funding from the Stimuleringsregeling Open & Online Onderwijs already three years in a row. We have submitted again proposals for the current tender (deadline 15 December). UM Library participates in a national task force focusing on the role of libraries in the context of open education and joins activities aiming to develop vision and policy on this topic, making use of a during the SURF Onderwijsdagen published checklist and a leadership programme. 
Listen how project manager Rob Fastenau invites education to put the topic of open educational resources on our agenda.
Technical opportunities
An other big topic was the presentation of the Versnellingsagenda voor Onderwijsinnovatie by three important Dutch alliances: the Vereniging van Universiteiten, Vereniging Hogescholen and SURF. In this document, three opportunities technology offers are identified: 1) employability, 2) flexible and better education and 3) smarter learning.
To realise real acceleration it is important to find synergy between institutes: develop a shared vision on what you want to reach (with technology), shared commitment and collaborative investment with room for variation in ambition and pace. To start with sharing (inspiring) experiences. Offer space for experiments, create a connection with educational research and embed what works. And, not forgetting, after the pioneers have started and the early majority takes over the possibilities, create awareness with the late majority and support them where needed when they want to make use of the possibilities as well. Last but not least: do not only talk about the tools or technology, but also spend time to course design and didactics.
How to accelerate within Maastricht University?
Integrate digital literacy in the skills and support offer, e.g. connected to the DLO or the teacher qualification programmes (BKO), for both students and teachers. You can think of basic ICT-skills, but also activities in which the tools offer new possibilities:
Social media in a professional context
Visualising research
Searching and selecting open educational resources (OER)
Tools for interaction during or after class (e.g. audience response tools, concept and mind mapping tools, virtual collaboration platforms, and peer feedback tools)
These topics are currently offered or being developed within the UM Library Skills & Support department.
Find out more
Who wants to find out more about the presentations during the SURF Onderwijsdagen can browse the impression SURF offered with links to blogs, videos and publications and of course the presentations.
Do you want to know more or share ideas with us? Please contact us via elearning-ub@maastrichtuniversity.nl