Samantha and Angelica are the two students on an expedition in China following the travelogues of the Jesuits based on Kircher's China Illustrata, which is part of the UM Special Collections.
See also: Two girls on expedition in China: Following the footsteps of the Jesuits
They began their preparations by spending hours poring over the China Illustrata and planning their itinerary for the trip. They hope to follow the path of two Jesuit travellers, D'Orville and Grueber. To this end, they started their journey in Beijing, and will move on to the valleys of Larung Gar, possibly crossing the Tibet border and exploring Lhasa if the circumstances permit it, and then return to Shanghai, making stops along the way to see the places and learn more about them.
Once their trip was planned, they began all the formalities that their predecessors, the Jesuits could avoid, such as purchasing plane tickets, acquiring visas for China and Tibet, getting vaccines, and so on.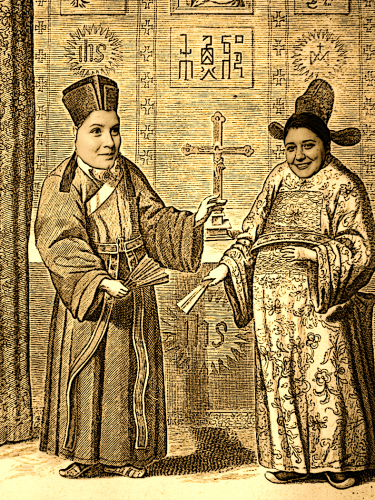 But of course, in order to truly appreciate their expedition to China, they would need to have at least a basic grasp of the language. For this purpose, they were given special classes by Su Li, the resident Chinese language teacher at the UM Language Centre, who gave them a crash course in Mandarin and in Chinese culture to make their trip easier and to help them to interact with the inhabitants of the more rural areas that they may come across on their expedition.
See also: Mandarin 101
The girls have even contacted Maastricht University alumni in Beijing and have made plans to meet up with them, in addition to contacting other locals who can guide them through their trip. They also met with  an expert on Oriental studies; Dr. Polichetti, the Director of the National Museum of Oriental Art in Rome, who went through the China Illustrata with them and explained many details of cultural and historic significance to them and then gave them a tour of the museum.
Having made all these extensive preparations, the two girls finally left for the Expedition in China on 4 August. They will be updating their blog as their expedition progresses.
Follow the travel blog of the china expedition here: Two Girls on Expedition in China
Subscribe: Subscribe to the journey updates
The Expedition in China was made possible with the support of the University Fund (Universiteitsfonds) and the Maastricht Academic Heritage Fund. Special thanks to the UM Language Centre.