Library Hours & Locations
Library Hours & Locations
Library Today
Library Today
Other locations
Other library locations
Bonnefanten Learning Spaces
08:30 - 18:00
Randwyck Computer Facilities
08.00 - 18.30
LINK
07:30 - 22:00
USC Learning Spaces
07:00 - 23:00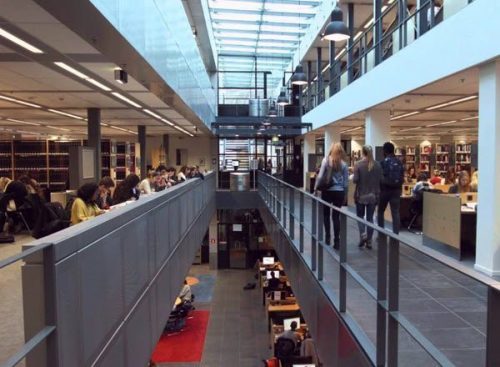 Inner city library – redactie
Inner City Library
Grote Looiersstraat 17, 6211 JH Maastricht
957 study places
Library information desk: +31 43 388 5005
Porter: +31 43 388 4819 
Opening hours – redactie
Opening hours
| | |
| --- | --- |
| Today | 08:30 - 22:00 |
| Tomorrow | 08:30 - 22:00 |
| Wed | 08:30 - 22:00 |
| Thu | 08:30 - 22:00 |
| Fri | 08:30 - 22:00 |
| Sat | 11:00 - 22:00 |
| Sun | 11:00 - 22:00 |
Randwyck library – redactie
Randwyck Library
Universiteitssingel 50, 6229 ER Maastricht
708 study places
Library information desk: +31 43 388 5143 
Randwyck building reception: +31 43 388 1760
Opening hours – redactie
Opening hours
| | |
| --- | --- |
| Today | 08:30 - 22:00 |
| Tomorrow | 08:30 - 22:00 |
| Wed | 08:30 - 22:00 |
| Thu | 08:30 - 22:00 |
| Fri | 08:30 - 18:00 |
| Sat | 12:00 - 17:00 |
| Sun | 12:00 - 17:00 |
Bonnefanten Learning Spaces – redactie
Bonnefanten Learning Spaces
Bonnefantenstraat 2, 6211 KL Maastricht 
138 study places
SSC reception desk: +31 43 38 85388
Opening hours – redactie
Opening hours
| | |
| --- | --- |
| Today | 08:30 - 18:00 |
| Tomorrow | 08:30 - 18:00 |
| Wed | 08:30 - 18:00 |
| Thu | 08:30 - 18:00 |
| Fri | 08:30 - 18:00 |
| Sat | closed - closed |
| Sun | closed - closed |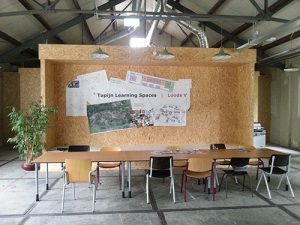 Tapijn Learning Spaces – redactie
Tapijn Learning Spaces
Tapijn Kazerne 3, Maastricht 
180 study places
Library information desk: +31 43 388 5005
Opening hours – redactie
Opening hours
| | |
| --- | --- |
| Today | 08:00 - 23:00 |
| Tomorrow | 08:00 - 23:00 |
| Wed | Closed - Closed |
| Thu | 08:00 - 23:00 |
| Fri | 08:00 - 23:00 |
| Sat | 08:00 - 23:00 |
| Sun | 08:00 - 23:00 |
Randwyck computer facilities – redactie
Randwyck Computer Facilities
Universiteitssingel 50, 6229 ER Maastricht 
288 study places
Library information desk: +31 43 388 5002 
Randwyck building reception: +31 43 388 1760
Opening hours – redactie
Opening hours
| | |
| --- | --- |
| Today | 08.00 - 18.30 |
| Tomorrow | 08.00 - 18.30 |
| Wed | 08.00 - 18.30 |
| Thu | 08.00 - 18.30 |
| Fri | 08.00 - 18:00 |
| Sat | closed - closed |
| Sun | closed - closed |
LINK Learning Spaces – redactie
LINK
Universiteitssingel 50, 6229 ER Maastricht 
104 study places
Randwyck building reception: +31 43 388 1760
Opening hours – redactie
Opening hours
| | |
| --- | --- |
| Today | 07:30 - 22:00 |
| Tomorrow | 07:30 - 22:00 |
| Wed | 07:30 - 22:00 |
| Thu | 07:30 - 22:00 |
| Fri | 07:30 - 18:30 |
| Sat | 12.00 - 17.00 |
| Sun | 12.00 - 17.00 |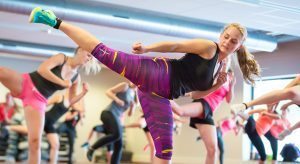 USC Learning Spaces – redactie
University Sports Centre - USC Learning Spaces
P. Debyeplein 15, 6229 HA Maastricht 
150 study places
USC information desk: +31 43 38 85311
Opening hours – redactie
Opening hours
| | |
| --- | --- |
| Today | 07:00 - 23:00 |
| Tomorrow | 07:00 - 23:00 |
| Wed | 07:00 - 23:00 |
| Thu | 07:00 - 23:00 |
| Fri | 07:00 - 23:00 |
| Sat | 10:00 - 20:00 |
| Sun | 10:00 - 20:00 |
Questions and support
Contact informationQuestions & support
See individual locations for direct contact.
General contact information of the University Library
Mailing address: Postbus 616, 6200 MD Maastricht
General telephone number: +31 43 388 5000
Fax: +31 43 388 4888
Please use this form for all your questions and remarks. Questions are answered within a day, on week days during office hours.