In addition to making a donation to the Maastricht Academic Heritage Fund, you can support our fund projects by purchasing stunning postcards.
Information about the postcards
The Inner City Library's Precious Books Reading Room, the Parlour, now has ten new tables with unique tabletops.
The Jesuit Collection – one of Maastricht University's most valuable special collections – served as the source of inspiration for artist Astrid Verkoijen (Cadier en Keer, www.danast.com ) when designing these tabletops. Her compositions provocatively highlight the link between gaining knowledge and discovering the great wide open.
We transformed these images into ten folded cards, which can be used for any (persona)l occasion. Click on the image below to view the cards. The cards come with envelopes and can be purchased individually or as a set.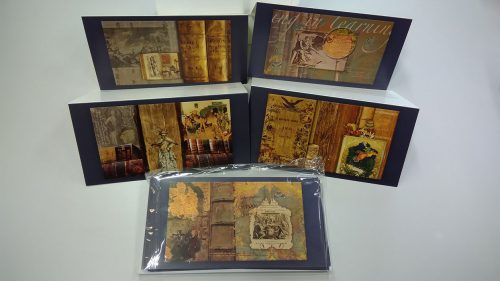 Card sale
At the University Library
You can buy these cards (envelopes included) for €1.50 each at the information desk at both library locations. The complete set of 10 cards is for sale for €13.50. You can only pay by PIN at the information desk.
Digital
It is also possible to have one or more sets of cards sent to your postal address.
Postage costs:
[su_table responsive="yes"]
| per set | 2 sets | 3 or 4 sets |
| --- | --- | --- |
| Netherlands: €2.25 | Netherlands: €2.75 | Netherlands: €3.30 |
| Europe: €4.80 | Europe: €8.55 | Europe: €9.45 |
[/su_table]
Details of the charges for delivery of more sets or for one or more sets to countries outside Europe will be sent to you on request.
Place your order via the order form on the left.
Transfer the amount and postal charges to account number IBAN NL60 INGB 0677 2799 06 attn. Maastricht University, University Library stating Parlour card set(s).
We will send your order within 14 days after having received your payment.