We are going to make a couple of changes to the library website. Changes will be nocticeable on the homepage and the services section. All library services remain available and we try to minimise inconvenience.
The following changes will take place today:
1. Library homepage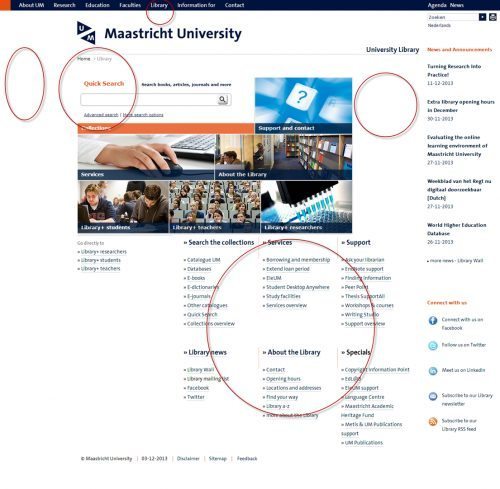 The following changes are planned in order to stay in sync with the UM site
Top menu (part of the UM website and always available within the UM website) will stay and is the main navigation section of the site
Left side menu will be added to show the Library Portals and the main structure of the site
Tiled navigation with Quick Search will be adjusted to fit the site structure: one image + Quick Search box + extra search options
Bottom navigation (also available in Top Menu) will be replaces by a set of Quick Links and a Spotlight section
2. Library Services
We will replace the Services page by our Services catalogue (comparable to our Databases catalogue).
If you (think you) know what service/product you are looking for, you can go to the Services section and quickly select the one you need. Use the search box (tip – also works if you don't know the exact name of the service), the A-Z select, or another filter like Category or Faculty.
If you have a question/problem and don't know what product/service to use, I suggest you go to the Support section or one of the specialised Library Portals (Students/Researchers/Teachers) where we guide you towards the best solutions for your problems.
After the update we will publish another post with more information about the upgraded Online Library. If you have questions, suggestions or remarks, please use the feedback option below or our Ask Your Librarian service.