Looking back on OA seminar Publish with impact
Looking back on OA seminar Publish with impact
On Tuesday 24 October, around 45 UM researchers participated in the University Library's seminar 'Publish with impact' to celebrate the International Open Access Week 2017. This is an annual event to highlight the importance and opportunities of Open Access and related topics. The seminar focused on criteria and tools that will help you in choosing your best journal to publish in and in ways to increase your visibility and the impact of your published paper.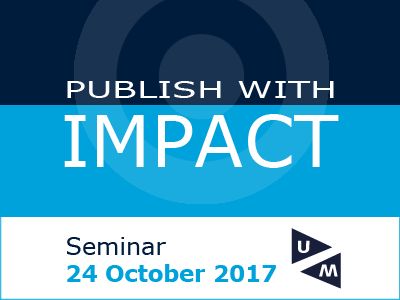 This year UM Library made a short video about our contribution to the International Open Access week. If you want to look into the presentations again (they are incorporated into the video), or weren't able to attend the seminar, this video might be of interest to you.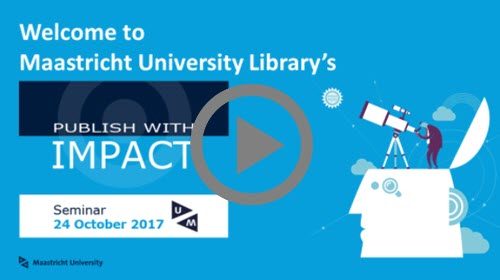 Hopefully, the information will help you to make the right choices during your writing process to publish with impact. And it might motivate you to embrace Open Access and choose for Open Access publications.
About the Open Access seminar video
In the video UM Library director Ingrid Wijk starts with a couple of introductory remarks on the institutional framework for Open Access in the Netherlands.
Richard White, Chief Editor of the Nature Research journal 'Scientific Reports', delivers the keynote speech mainly on how to get your work published and improve its impact.
The second part of the seminar consists of three talks by University Library experts explaining some aspects of Open Access.

Stefan Jongen PhD, scientific information specialist, shares How Open Access expands  his audience and increases publicity
Jos Franssen MPhil, scientific information specialist, with Bibliometrics as a point of particular interest, asks: Is there an Open Access citation advantage?
And finally, Ilse Sistermans, member of the e-learning support team, gives her answers to the question how videos can boost the visibility of your research.
To support the discussions, the seminar sheet 'Open Access journals; the basics' was compiled. This sheet contains many facts & figures and maybe, more importantly, tools & tips pertaining to and useful for Open Access.
More information about Open Access can be found on the Maastricht University's Open Access page.