New look Westlaw UK launched
New look Westlaw UK launched
A new Westlaw platform is now available which offers access to Westlaw UK content via a new look, more user-friendly, refining many features and bringing the general look and feel in line with Westlaw International.
Westlaw UK covers UK legislation, full text case law, journal archives, legal news, and also provides access to UK Civil Procedures, EU cases, treaties and directives and a daily alerting service. It has recently undergone some major interface changes. The content remains the same, but you should notice significant improvements to the search and display options, and its overall look and feel.
Main features
As before, you can still search or browse across all content types, or limit to a specific content type (e.g. cases or legislation). Specific search options (such as using connectors) are similar to the old system, but you should find everything more clearly set out. The content header tabs are similarly displayed at the top of the page in the collections navigation bar.
The option to search across all collections remains but in addition the Options button allows you to select specific collections to search across.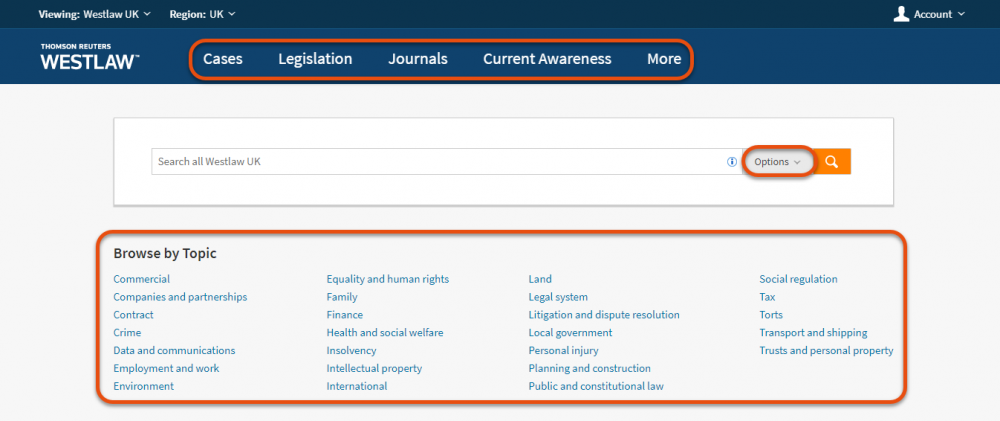 Westlaw UK new look homepage: The collections Navigation Bar, Options button and Browse by Topic highlighted.
The search box will suggest what you might be looking for – it will suggest topics, titles and key terms and phrases. You can also browse topics to find key documents (including cases and legislation), and track the latest and future developments via an interactive calendar.
Content
Cases
The Cases tab opens up to Cases Home and gives you the option to search for specific cases by Free Text, Subject/Keyword, Party Names or Citation. The next two tabs in the second layer provide browsing options, so you can browse by court or by law report series title. The fourth tab allows you to search for Quantum Reports. This one is a new addition.
Legislation
Clicking the Legislation tab takes you to Legislation Home and allows access to a complete collection of consolidated UK, Scottish, Welsh and Northern Irish Acts and Statutory Instruments which you can browse or search directly.
Journals
The Journals tab is where you can find full text UK legal journal articles from major publishers such as Sweet & Maxwell, Oxford University Press and Cambridge University Press. You can also link to over half a million article abstracts from UK and EU legal journals.
International and European Union materials
This materials will be accessed via links from the upgraded Westlaw UK and will open in a new web browser window.
For options to access US and other International materials click on the Region drop down menu.
To access the European Union materials click on the link for More followed by European Union. Bear in mind that EU sources are now hosted on WestlawNext, so you will be taken out of the UK version.
Access
Westlaw, among other databases, is available via our list of Databases in the Online Library.
Questions?
Do you have a question regarding Westlaw? Ask your question via Ask Your Librarian.
So feel free to explore!
Author: Angélique Bessems, Specialist Legal Scientific Information & Skills Support


This article is licensed under a Creative Commons Attribution 4.0 International (CC BY 4.0) License.