Teaching in the University Library
Use the library
Reserve a room
To reserve a computer room you have to contact the Education Office of your faculty, as reservations are made using Syllabus+.
More information on Reserving rooms
Access to Student Desktop/Temporary accounts
Any UM employee can log in to the PCs in the computer rooms of the library but you are strongly advised to personally test your account beforehand.  Would you turn out to be unable to log in you can request access via the ICTS servicedesk.
In case you will be teaching non UM students/visitors you will need to arrange temporary accounts for them. Use the button below to request an account. Make sure you apply for temporary accounts well in advance!
Should you or some of your students be unable to log in during the lessons, there is an emergency procedure available at the information desk or the Computer and Resources Centre desk.
Check for software
Please verify whether you and your students have the right software available. There are three layers of software:
The Basic layer is identical to every user and contains among others the following software: Windows 10, IE 11, Chrome, Microsoft office 2016, PDF Exchange, VLC mediaplayer, Java.
The Plus layer contains software for which the UM has a UM wide license: MATLAB, R for Windows, RStudio, ATLAS.ti , SPSS, EndNote, C++, Redistributable.
The BE layer contains software that is generally faculty specific. Software within this layer can be distributed to a group of people or even an individual, this can even be done for a short period of time (according to the licensing terms).
The available BE layer software changes rather frequently. Click below for an overview of the available software per faculty.
Request software
If the desired software is not available, you can request additional software via the service desk of ICTS. ICTS will contact you about the exact procedure, related to the licenses, downloadable links and testing. You can download the software request procedure for more information.
Additional storage capacity for educational material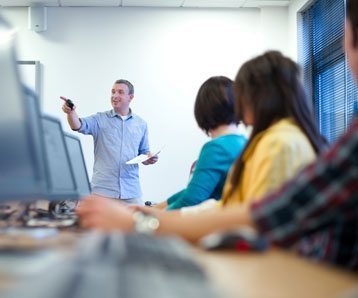 Contact & Support
For questions or information, use the web form to contact a library specialist.
Ask Your Librarian - Contact a library specialist