We're cautiously opening our doors again
We're cautiously opening our doors again
At last, the University Library is opening again for students and scientists of the Maastricht University (UM). We are able to open our doors, taking account of the Government's (RIVM) guidelines and UM protocol. You are welcome again in the safe environment of the Inner City Library from Monday 25 May.
Updates:
– the maximum number of visitors at the same time is scaled up to 50 (from 8 June)
– further expansion of available study places and the possibility to book either 1, 2 or 3 timeslots per day (from 18 June)
Reserve a timeslot
In this stage of the COVID-19 pandemic, opening the library is limited to the Inner City Library, on Mondays to Fridays between 09.00 and 17.00 hours. There will be a maximum of 25 visitors at the same time. We would like to offer an opportunity to visit the library to as many people from the UM community as possible; therefore we will be working with three timeslots of 2.5 hours each day and can only give you one timeslot a day.
Do not come to the library spontaneously, we ask you to book one timeslot for the date of your choice in a reservation application.
Please take your reasons for visiting the library into consideration. The UM would like to give priority to students with a disability, students preparing for exams or working on their thesis and to scientists in need of a specific library service. If this is your case, you can now make a reservation. With your reservation, you will receive the COVID-19 house rules and hygiene measures. Please observe the code of conduct as indicated in the library.
What services can you expect from us?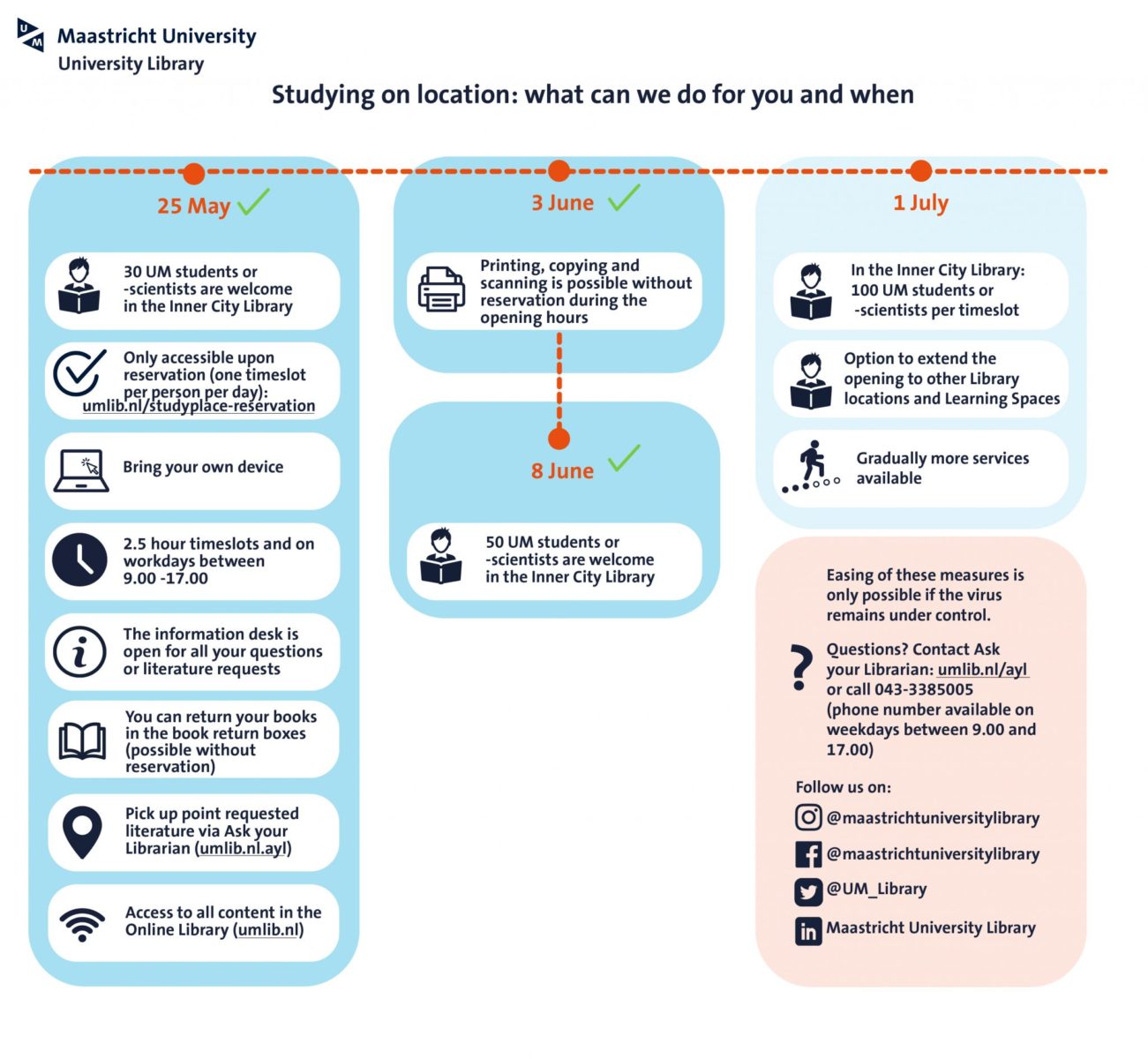 We try to offer made-to-measure services, in digital form whenever possible. Requesting literature still needs to be done via Ask your Librarian, as both the lendable and reference book collections are still unavailable. Questions? The information desk will be open.
And in the future?
Behind the scenes, we are working on ways to expand the amount of visitors, to open more locations and to offer more on the spot services. However, easing the COVID-19 measures is only possible if the virus stays under control and depends on the government's policies. We will keep you informed with our news bulletins on the Online Library and on our social media.
Author:
UM Library


This article is licensed under a Creative Commons Attribution 4.0 International (CC BY 4.0) License.