Zoom for online education
Since 2020, Maastricht University offers Zoom as a tool to organise and facilitate online sessions. Zoom is a video conferencing tool that is easy to use inside of Canvas or as stand-alone, either web based or as desktop app. It enables teachers and tutors to manage synchronous (live) tutorial meetings and lectures with students.
Zoom Whiteboard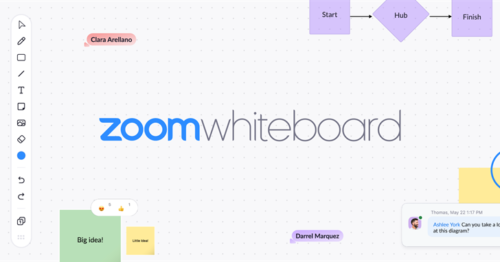 A recent upgrade of the Zoom license offers a whiteboard functionality. This function is available in the Zoom desktop client (Windows version 5.10.3 or higher; macOS version 5.10.3 or higher) both in-meeting and out of meeting (synchronous/ asynchronous) as well as the Zoom web portal.
A wide variety of controls enables Whiteboard collaborators working together easier before during and after Zoom meetings. Users can also manage whiteboards they have created, or that have been shared with them, from the desktop client and the web portal.
Manuals and support
Do you want to know more about Zoom Whiteboard? Take a look at these instructions:
Still having questions or trouble making use of the tool? Contact us via Ask your librarian and an expert will contact you.