Research Data Management - RDM
Research Support
1.
About Research Data Management
In the context of research and scholarship, "Data Management" refers to the storage, access, and preservation of data produced from a given research project.
As below, you will learn about research data management in more detail – in the context of the life cycle of research data -, and which support the university library offers you.
For any question regarding research data management, please contact the Data Management Helpdesk.
2.
Starting your research
Research data form the fundament of scientific knowledge, learning, and innovation. Hence it is obvious that accurate management of research data is essential in terms of accountability and scientific integrity, but also in terms of better retrieval, sharing, and storage of research data. You can find the guidelines for research data management at Maastricht University in the research data management code of conduct [PDF] – Source.
Effective research data management practices include
Designating the responsibilities of every individual involved in the study
Documenting the data and creating metadata (i.e., data describing the research data)
Determining how data will be stored and backed up
Implementing the data management plan
Deciding how data will be dealt with through each modification of the study
Advantages for you as a researcher
Research data management:
meets grant requirements
makes sharing and preserving data easier
makes your data understandable and reusable by others
allows transparency and verification of your research
helps to avoid catastrophic loss in the event of a disaster
allows your work to live into the future
2.1.
Research Data Management Requirements by Funding Agencies
More and more funding agencies expect you to integrate general information about data management in your research proposal. Here you have to address:
Types of data that will be generated and collected
Methods of collection and the standards used
Availability of your data for sharing, verification and reuse
Preservation of research data during and after completion of the project
The three for Dutch researchers most important funding agencies are NWO, ZonMw and Horizon2020 whose requirements are outlined in this section in more detail.
NWO
NWO started a pilot Data Management on 1 January 2015. NWO uses input from this pilot for the further development of policy and the implementation of data management in all its funding instruments. Researchers are expected to answer four questions about data management in the research proposal.
After a proposal has been awarded funding, the researcher should elaborate the section into a data management plan.
The pilot applies to the following eight funding tracks:
Vici
Research Talent (Social Sciences)
Innovative Public Private Partnership in ICT (Physical Sciences)
Fund New Chemical Innovations (Chemical Sciences)
Hightech Materials (HTM) call (Technology Foundation STW)
Urbanising Deltas of the World of Security and the Rule of Law (WOTRO)
Open Programme (Earth and Life Sciences)
Read more:
ZonMW
For a funding request from ZonMW a data management plan must be outlined. As soon as funding is granted, the plan must be worked out in detail. In the plan the researcher must indicate whether the research can be done with existing data, by enlarging existing datasets, or with a new dataset. ZonMW also wishes to know how the research data will be shared, when they will be made available to others, and how the data will be made accessible. 
Read more:
Horizon 2020
Researchers who wish to apply for funding from the European Commission as part of Horizon 2020, must include a paragraph on data management   in their project proposal, with information about:
what types of data will the project generate,
will the data be made accessible for verification and reuse, and if so how,
how will the data be archived.
An example text for Horizon 2020.
Researchers who take part in the Open Research Data Pilot of Horizon 2020 are required to write a detailed data management plan. The plan should be submitted within 6 months after the project starts. This plan is not part of the proposal evaluation process.
The following Horizon 2020 areas are part of this pilot:
Future and Emerging Technologies
Research infrastructures, part e-Infrastructures
Leadership in enabling and industrial technologies – Information and Communication Technologies
Societal Challenge: 'Secure, Clean and Efficient Energy' – part Smart cities and communities
Societal Challenge: 'Climate Action, Environment, Resource Efficiency and Raw materials' – except raw materials
Societal Challenge: 'Europe in a changing world – inclusive, innovative and reflective Societies'
Science with and for Society
Projects in other areas can voluntarily participate.
Read more:
Read more about the requirements of other funding agencies:
2.2.
Research Data Management Plan
The beginning of your research project is the best moment to create a data management plan with more detailed information about your research data management. It combines information about the various topics of a research data management process, as visualised in the figure: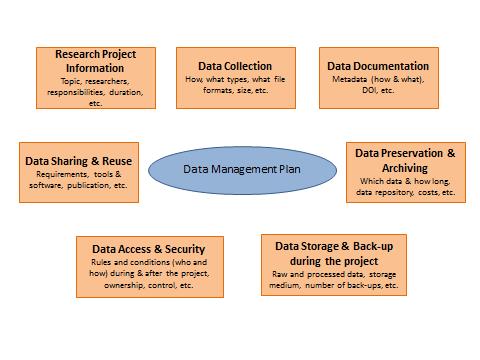 Read more:
3.
Collecting & Analysing
During this dynamic phase of your research major data loss would be a disaster, and you probably also want to share your research data with selected colleagues.
Hence, proper backup facilities should be obligatory and a data sharing platform eligible. Learn more about how library specialists could support you in this.
3.1.
Making use of existing data
More and more research data become available for re-use, not only via data journals, regular journals with links to datasets, but also via data repositories like DANS Easy, Dryad and many more. 

Via re3data.org, a Registry of Research Data Repositories, a global registry of research data repositories is available covering research data repositories from different academic disciplines.
It presents repositories for the permanent storage and access of data sets to researchers, funding bodies, publishers and scholarly institutions. You can search by subject (scientific domain), content type (type of research data) and/or country. Additionally, you can select repositories on having a certificate, open access and/or persistent identifier. You can also browse the database by subjects, content type and/or countries.
Another option is making use of commercial data (e.g. from databases the University Library has licences for, like Datastream, WRDS) or data from statistical bureaus, like the Central Bureau of Statistics (CBS) in the Netherlands. The main sources for statistical information is CBS's electronic database Statline. 

CBS offers also to universities and other research institutes the possibility to access the source data that have been used by CBS in their statistical processes. That means that you can perform your own research on the basis of strictly anonymized data present at CBS about persons, households, companies, etc.; these are the so-called microdata. 
At CBS microdata you can find the conditions for the use of CBS microdata and a wide range of additional information.
During this dynamic phase of your research major data loss would be a disaster, and you probably also want to share your research data with selected colleagues. Hence, proper backup facilities should be obligatory and a data sharing platform eligible. Learn more about how library specialists could support you in this.
3.2.
Storage of Dynamic Research Data
The DataverseNL is a reliable and safe environment for describing, managing, storing, and sharing different kinds of research data. It offers you:
The possibility of short-term and long-term data storage after finishing research
Convenient short-term storage during data analysing, as proper back-up facilities and access management are present
A suitable registration of your dynamic and static research data
The possibility of data exchange between entitled researchers
The possibility to create a separate database of research data studies of your own research group, as a dataverse is a container for research data studies
To use the DataverseNL, you only have to have an UM account and to send a request for a dataverse to the library.
Read more:
Another service the library offers, are the collaborative tools, the Virtual Research Environment (VRE). They are especially suitable for short-term storage and data sharing in a secure cloud-based environment.
4.
Writing & Publishing
After finishing you research you want to register and storage your research data safely and carefully.
Also, you might want to regulate the accessibility of your data in future to prevent unauthorised access or unwanted changes to the data, and disclosure or destruction of the data.
4.1.
Registration of Static Research Data
The stored research data need a carefully registration to make discovering and reuse possible. In the data management plan you have already started to define the areas of description, but possibly you have gained additional information during the research process you want to add. Research data documentation encompasses at least the following:
Names, labels and descriptions for variables, records and their values
Explanation of codes and classification schemes used
Codes of, and reasons for, missing values
Derived data; created after collection, with code, algorithm or command file used to create them
Data listing with descriptions for cases, individuals or items studied, for example for logging qualitative interviews
Many of these details can be recorded in the metadata appended to the item. Metadata give context to your research data by providing descriptive detail about it in form of structured information such as purpose, origin, time references, geographic location, creator, access conditions, and terms of use of your data collection. Examples of metadata elements are title, contributor, creator, subject, description, type, format, and date.
The registration of the datasets is stored on the Dutch Dataverse Network.
Read more:
4.2.
Storage of Static Research Data
It is very important to choose for the most convenient form of short-term and long-term data storage right at the beginning of the research project as storage and good back-up facilities are essential for data management.
The University Library offers you:
The DataverseNL, which is especially convenient for short-term storage, but potentially also for the long-term storage up to 10 years
Read more
5.
Further information about research data management
On the internet a variety of information research data management is available on various webpages, and even online-courses exist to teach you successful research data management. We made a selection for you of useful links:
Contact & Support
For questions or information, use the web form right to contact a LibSearch specialist.
Contact an RDM specialist