New Open Access Journal Browser
Library+ Research news
The new Open Access Journal Browser
This morning we launched our branded and revised UM/MUMC+ Open Access Journal Browser. Use the Journal Browser to find all relevant Open Access and APC discount information from the national deals and local arrangements with publishers. And with additional links to local support and publishing knowledge, the Journal Browser is your primary source for planning your publications. 
What is the Open Access Journal Browser?
The UM/MUMC+ Journal Browser is a tool specially developed for researchers. You can search for journals to publish Open Access at no or reduced costs.
The UM/MUMC+ Journal Browser contains data for over 35,000 journals. More than 22,000 journals with Open Access agreements: both journal deals involved national arrangements and agreements explicitly made for Maastricht University. Among others, there are agreements with Elsevier, Springer and Wiley.
Combining this and other information (see below), the UM/MUMC+ Journal Browser provides an accessible overview of options to help you publish Open Access.
Quick Start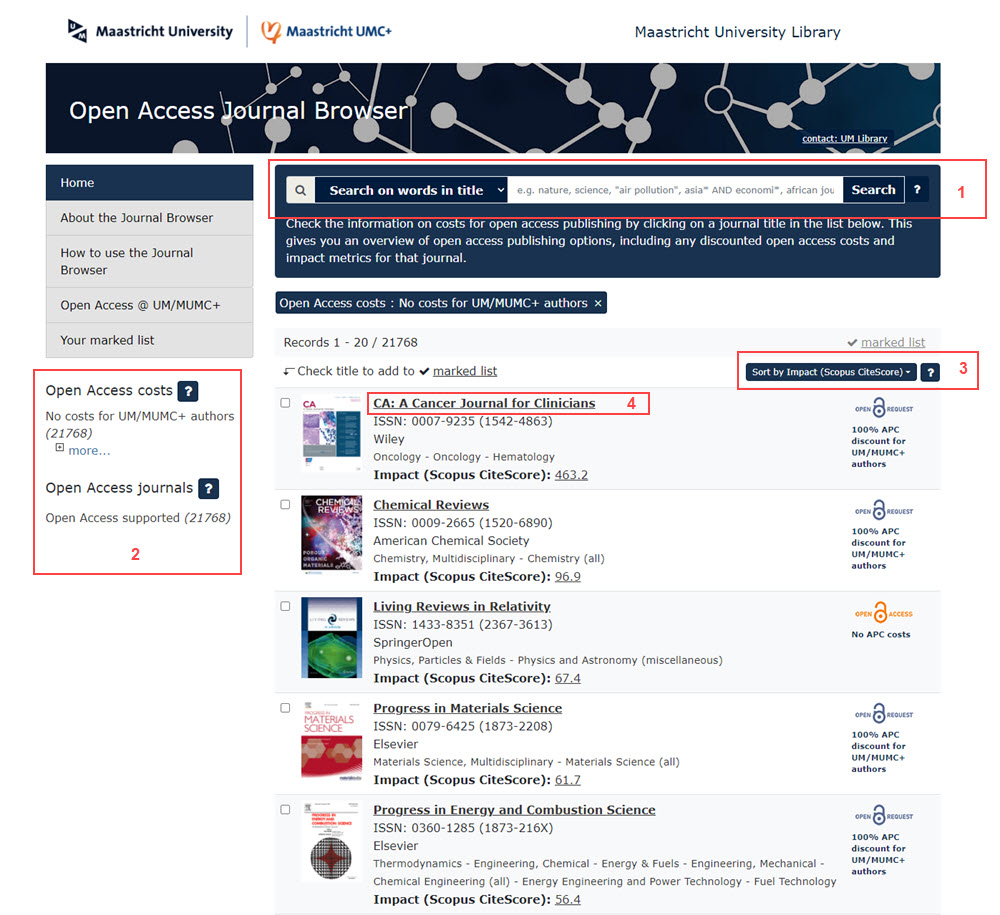 Search for words in the journal-title (default), or search with keywords in all fields (select option)
Filter options for Open Access types
Sort options for the search result presentation
Click the title of a journal to go to the journal detail page (see below)
For a tutorial, visit the Open Access Journal Browser information page.
Journal detail page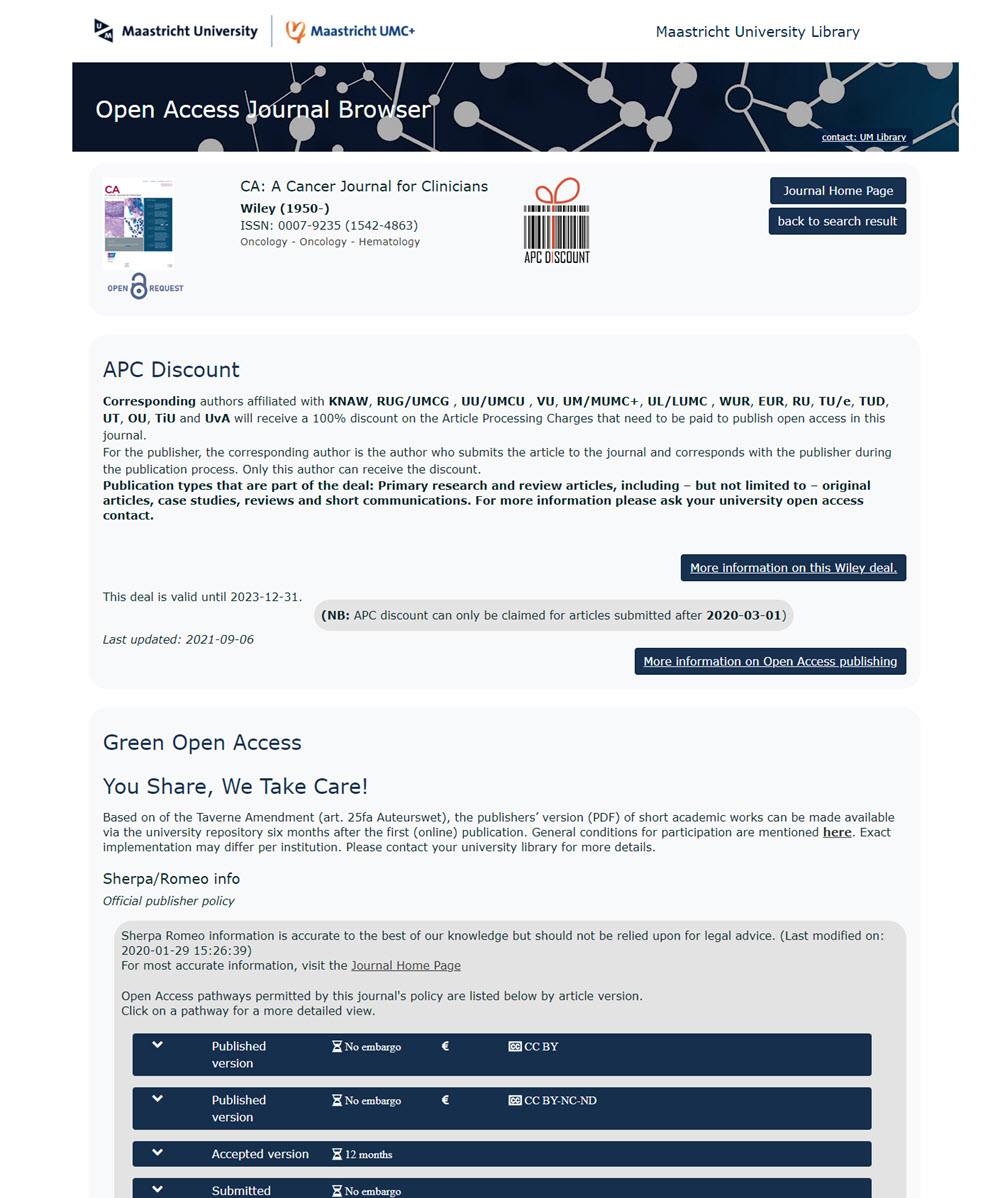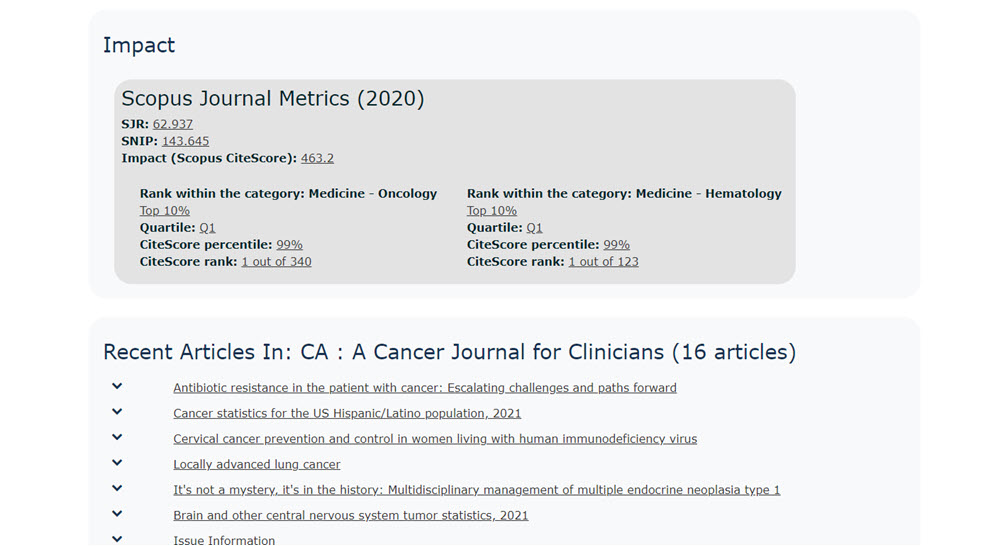 When you go to the detail page of a journal, you'll find the following information:
Basic information about the journal with a link to the journal home page.
Gold Open Access – APC discount information linked to the information about the arrangements with the publisher and the workflow to follow to apply for the discount.
Green Open Access – information about your options to make your publication Open Access when Open Access publishing in this journal is not an option
Impact – basic journal impact information to help your selection process
Recent articles – overview with links to recent articles in the selected journal
Visit an actual  journal detail page in the Open Access Journal Browser
More information
If you have questions, you can always reach us via the contact form below.
Contact form for questions and comments
Research Support related news & events
Research Support Updates
Keep up-to-date with Research Support services and topics. Join our support mailing lists and receive updates of published news & events.