Get Involved
Special Collections
The University Library has acquired a number of very special collections – collections from the past that are of significant value to society, education and research now and in the future. Pass this academic heritage on to the next generation by becoming a Friend of the Maastricht Academic Heritage Fund
Become a Friend
Adopt a book
Friends of the collection
The Maastricht University Library holds a number of exceptional book collections, often hundreds of years old. Its Jesuit Collection contains over 250,000 books on philosophy, history, medicine, art, theology, literature, law, and social sciences. Several collections are specifically Limburg in orientation, such as the personal library of poet and artist Pierre Kemp and the documentation collection by painter Charles Eyck.
Help preserve these collections.
Become a friend today for  only €50 a year!
Single donations
Are you interested in helping us ensure these heritage collections remain accessible to you and to others? As a Friend of the Maastricht Academic Heritage Fund, you can support several interesting projects. You can count on exclusive invitations to exhibitions and lectures by making a single donation or a €50 contribution per year.
You can transfer your contribution to: Stichting Universiteitsfonds Limburg/SWOL, naming "Academic Heritage" in the description.
Stichting Universiteitsfonds Limburg/SWOL Maastricht
IBAN: NL21 INGB 0653 6632 42
BIC: INGBNL2A
In addition to making a donation you can also support our Fund projects by  purchasing our collectors items.
What You can expect from Us
Why Become A Friend?
Support interesting projects
Support interesting projects in relation to the collection such as book restoration, and digitising paper documents and journals. See
www.umcrowd.nl
for ongoing projects.
Save history for the future
Ensure heritage collections remain accessible to you and others not only for this generation but also for the next generations to come.
What Drives Us
This is how we work
Maastricht University (UM) has a careful acquisition policy that allows it to acquire unique collections
The University Library possesses several important heritage collections and makes these available for research and education. These often involve paper documents, which need to be carefully handled, digitised and made available to a wider audience
The Maastricht Academic Heritage Fund (AEMF) encourages initiatives and projects in these areas to ensure this heritage retains its unique value.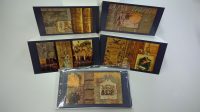 The Inner City Library's Precious Books Reading Room, which was recently renamed the Parlour, now has ten new tables with unique tabletops. We transformed these images into ten folded cards, ...
Read More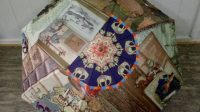 Join our newsletter
Hear about our latest projects, events and exhibitions
by signing up for our newsletter.