Before using the filters or the alphabetical list of elements that you could address in a CV, read the information under the arrows as well. The information not only addresses your own responsibilities and points to the research information system (Pure) as a valuable source for indicators, but also lists what you can do with the information gathered on academic outputs and activities. It also addresses some other characteristics – next to quantitative indicators – that might be worthwhile to address in a narrative CV.
Which indicators or characteristics to address in an assessment context
Which indicators to use and which aspects of your academic profile to highlight will depend on the assessment context, your discipline (typical outputs and activities), your personal situation, or on the specifics of the research project for which you are applying. Narrative CVs may differ in the indicators they allow and the limitations you should carefully consider. It is the sole responsibility of the researcher to ensure that the indicators meet the requirements of a particular type of narrative CV.
Usage indicators - citations, views, downloads, mentions (raw counts)
For many research outputs, only 'usage' indicators are available such as the numbers of citations, mentions, views, downloads, or holdings (for books). When using these raw counts keep in mind that they are difficult to interpret when a benchmark is missing to which one can compare these numbers. Such benchmarks only exists for publications indexed in the Web of Science or Scopus, and their use and interpretation is more or less straightforward only for sets of publications at an aggregate level, such as research units, institutes or countries. At the individual level, for researchers with much smaller sets of publications, the responsible use and interpretation of citation indicators is more involved.
Many research results, such as methods, procedures, processes, tests, probes, reagents, instruments, designs, datasets and research software, do not get referenced explicitly in publications often, but only mentioned in the text. This makes it difficult to collect usage data such as citations or mentions. The same applies to the use of research infrastructures, databases or research facilities. You may know some of the users personally, but if you want to get a more complete picture of the use of your research results, you need to search full texts for a name, a concept or a description. However, these searches are only feasible if you have a good idea or reasonable suspicion of which full-text documents to search.
Further guidance on benchmarks: Normalized Citation Indicators subject guide
Guidance on how to use raw counts: Pitfalls when looking for indicators – Using raw counts (citations, mentions, views etc.)
For indicators better not to use and the reasons why: Research Intelligence Services – Responsible metrics
For the drawbacks and reasons why views and downloads are introduced as indicators of (potential) impact: Views and downloads (a special brand of altmetrics) and their drawbacks
Other characteristics of outputs or activities worthwhile to address
Research output, activities, or characteristics can be worthwhile to address for many reasons. For example, that many other researchers or institutes are using your research software, instruments, tests or methods. The alignment of your research outputs or activities to societal needs might be another reason. The reuse of data and research software from others may also be worth mentioning, or that a publication was the result of a replication study or a study to reproduce research results. Efforts that should be recognised and rewarded in the same way as innovative or high-impact research according to the Hong Kong Principles (HKPs).
Other outputs recognised under the Hong Kong principles are reviews and systematic reviews. Because they synthesise existing research, or research reporting negative or null results, which require more effort to publish. In line with the Hong Kong principles, you could also specify if the research was pre-registered* or if reporting guidelines are used to increase the transparency and reproducibility of your research. Important values in the transition to Open Science and under the HKPs, as well as the use of data-management plans, and all the efforts to make data and research software as open as possible.
When addressing educational outputs like textbooks, presentations, etc. developed for your own institution or external third parties, also mention the efforts to enhance the accessibility of the outputs – not only for vision-impaired students, but also for students tired of screen reading or watching videos in crowded situations. Enhancing the accessibility makes it more inclusive.[1]
For a Practical Guide on Open Science practices that could be addressed, see: https://zenodo.org/record/7716153
(* Preregistration has also become an important element in UM's Open Science policy: Policy "Open Science @ UM" 2022-2026)
[1] See: https://library.maastrichtuniversity.nl/visit/facilities-studyplaces/facilities-for-disabled/#Tips_for_creating_accessible_course_material
The academic profile as the foundation for indicators: UM's Current Research Information System (CRIS) is Pure
Main advantages
The main advantage of using the research information system Pure to register your accomplishments – from an assessment perspective – is that you can refer others to it without addressing individual entries. The Research Information portal not only shows the kind and number of objects and activities registered under your name but also information on:
the intended public of an item (academic / professional / popular)
with whom you collaborate (internal and external)
the status of a publication (refereed/non-refereed, Open Access/not Open Access)
the number of times a publication has been cited in the Web of Science, or downloaded from Pure, and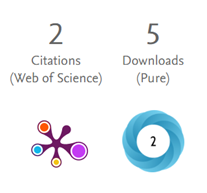 This additional information enables others to get a much quicker and more complete view of your academic profile, provided that Pure is fully used.
For academics themselves, the additional information in Pure enables you to look for publications with citations, downloads, or media attention that could be worthwhile to investigate further. Publications with high numbers of citations or attention do not necessarily reflect main or most important contributions. However, the (kind of) sources, channels, institutes and people behind these numbers might provide additional context for a publication or to show how your research has been picked up in the academic realm or by other societal stakeholders or target groups.
Another advantage of Pure is that entries are validated by third persons (faculty Pure key-users) making Pure a 'trusted' source, and last but not least that it offers opportunities to register many research related activities as well.
Activities in Pure
Besides research outputs, awards, prizes, etc., Pure also offers opportunities to register research related activities, which are becoming more important in assessment contexts.
The following sub-categories are available as part of 'activities' in Pure:
Talk or presentation – at conference
Editorial activity, journal
Organizing or contriuting to an event
Peer review (publication)
PhD (co-)supervision / assessment committee – internal promotion
Membership of committee
Consultancy / Advise external parties
Membership of network
Membership of board
External collaboration in research projects
Membership of council
Editorial activity, book
Attending an event
Teaching to External parties / At external institution
Performance, Talk or Presentation – not at conference
Inaugural speech
Farewell speech
PhD assessment committee – external promotion
PhD (co-)supervision – external promotion
Advise to PR / Marketing internal
More information on Pure: https://library.maastrichtuniversity.nl/cris-support/
What to do with the information gathered on research outputs from Pure and other sources
Besides specifying the number and kind of citations, mentions, views and downloads of your published research, you can specify many other characteristics of your research output like the ones listed below. The 'Specifies' in the list do not mean that you have to address them all. They are examples of what you could specify. Which indicators and characteristics to use and which aspects of your academic profile to highlight, depends on the assessment context, your discipline (typical outputs and activities), your personal situation, or the specifics of the research project for which a grant is applied.
However, in many narrative CVs it is mandatory to specify the PIDs and the openness or the OA status of your research output(s), while the others have a more non-binding character.
Keep in mind that besides review activities, other activities registered in the research information system Pure can also indicate important aspects of your Academic Citizenship.
Citations & mentions of special interest and their sources (summary)
Start collecting indicators and characteristics for your narrative
​The alphabetical list below contains information cards on how to collect evidence for the use of common academic outputs and by whom. The cards are distinguished into 'Evidence', 'How to', and 'Specify' cards.
The 'Specify …'-cards describe what you can do with the information gathered. Each card contains links to other guidances (i.e. more in-depth explanations or background information), or to how to use tools and sources (in writing or video), as do the 'How to obtain…'-cards in the list.
When filtered, only information cards are shown for the chosen output/activity or those that are relevant in combination with a chosen type of impact representing assessment components from the UM Career Compass. However, using filters does not prevent many recurring cards, but we hope it will make navigating a little easier.